What I'm most interested in is a climate in Maricopa.
The air has no dampness, it hasn't been raining since I came here. Even if it will be put iced water to on a table the pet bottle doesn't need a coaster.
It means it won't generate drops of water on the surface. Wet Tissue will become dry soon after is taken out from the pack, and laundry will dry by few hours. All the things in rooms are free from mold.
It's unbelievable to me who was living in Japan.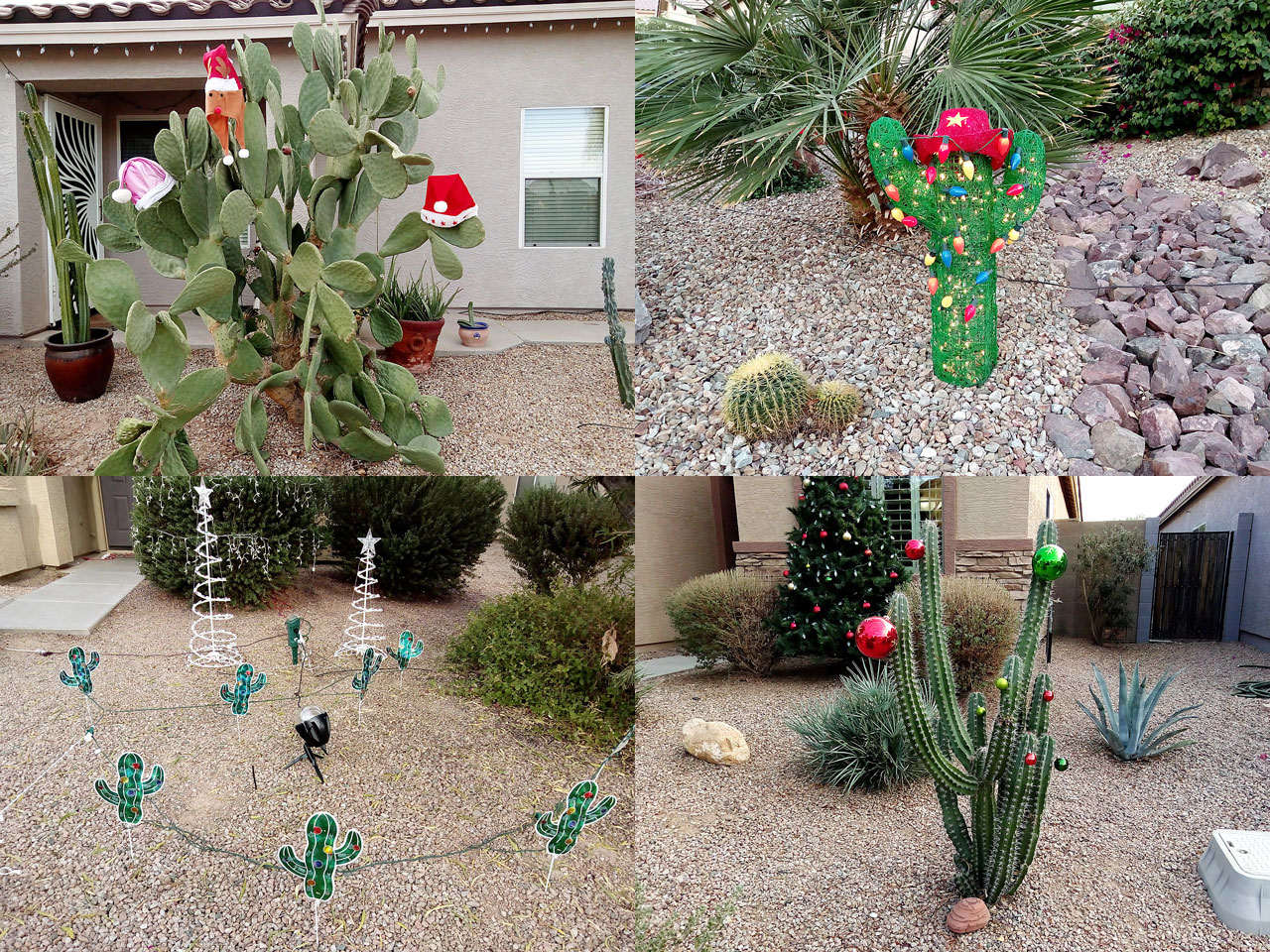 And one more thing, it's Christmas season now, the town became like the fairy-land by countless illuminations.
There are lots of cactuses decorated with Christmas things, and ornaments of cactuses also.
It's very very beautiful and it makes me have fun.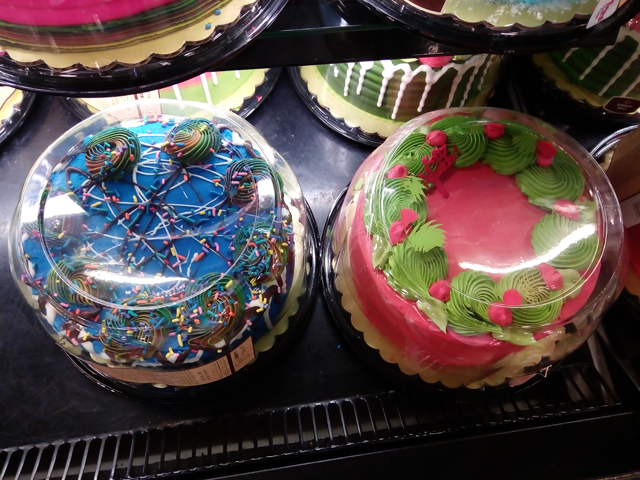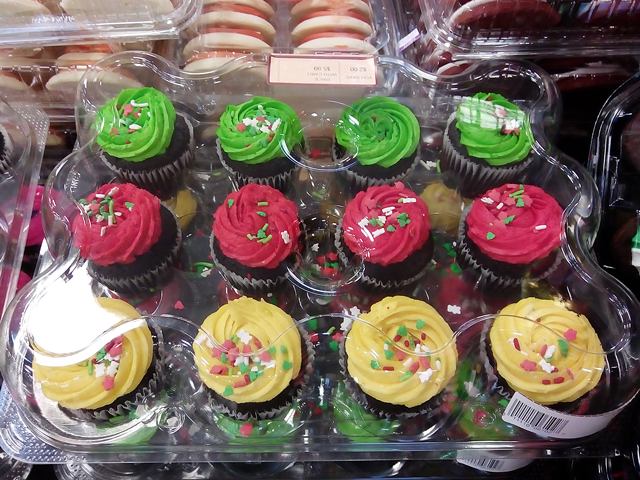 I'm enjoying shopping at a grocery store as usual.
American cake and cookies have very vivid colors like Europeans. I thought just as if it was made of clay. As for Japan, colors of cake are very simple mostly.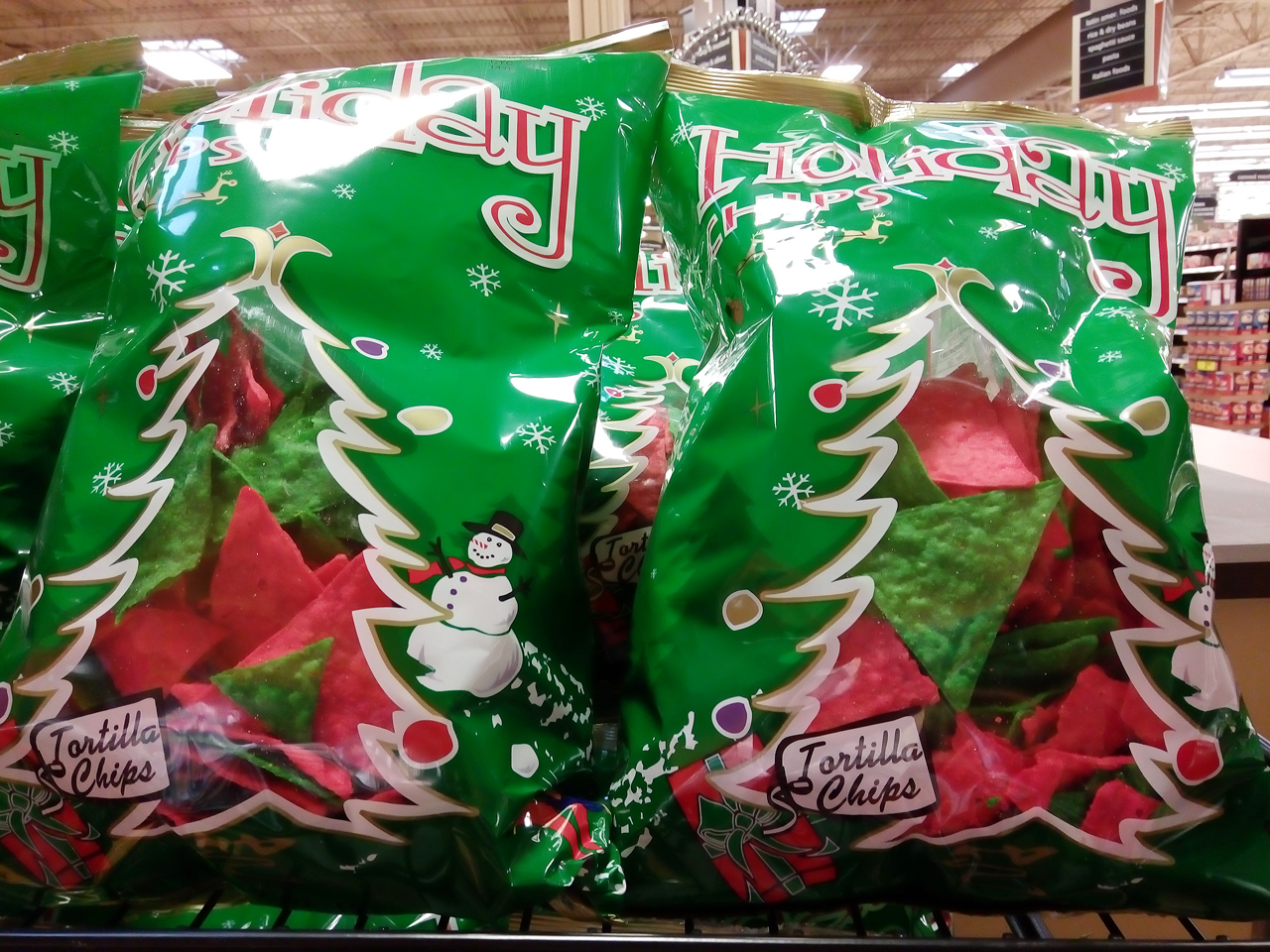 I found a tortilla pack having colors of green and red.
It is very wondering what does it taste like?
マリコパの日常生活 No.2
早いもので、マリコパ生活も1ヶ月と一週間。
折り紙教室をするというのはどこへやら、英語の勉強も全くせず。
いつもの調子の私でありんす。
でも、海外生活はやはり楽しい。
マリコパ生活をまとめてみた。
マリコパ生活のまとめ
空気の乾燥がすげぇ

とにかく空気が乾燥している。湿気というものがほとんど無い。
手を洗ってふらふら〜と振れば、1分もしないうちに乾く。洗濯物は数時間で乾く。しかも、バリッバリ、ゴッワゴワになる。
ウェットティッシュも、パックから出したら、瞬くうちに普通のティッシュになる。

驚いたことに、コースターというものが必要ない。冷たい飲み物どころか、たとえ凍ったペットボトルを机の上に置いていても、その表面に水滴が発生しない。何時間たっても「ちょっと曇る」ぐらいの程度だ。すごい。

石鹸類がぬるぬるしすぎ

ボディーソープ、ハンドソープ、固形石鹸にいたるまで、どんなメーカーの石鹸でも、とにかくぬるぬるしすぎる。
どういうことかというと、石鹸をつけて、その後お湯や水で洗っても、そのぬるぬるが取れない。
これ、おそらく 「モイスチャーなんたら」 なんだと思うけど、どんなにしっかりゆすいでも、ぬるぬるしっぱなし。しっとり、すべすべなんてもんじゃない。ちゃんと石鹸が落ちているかどうかがわからない。
まぁ、乾燥地帯用仕様だと想像するけど、私としては気持ちが悪い。

ケーキやクッキーの色がありえない

ひとつ前のポストにも書いたけど、ケーキやクッキーの色がありえない。粘土でできていると思ってしまう。

日本車をよく見かける

今までに訪れた国の中ではダントツに日本車が多い。5台に1台くらいの割合で、日本車を見かける。ホストさんもNISSANの車に乗ってる。お隣さんは、トヨタ。
あと、不思議なのはナンバープレートの無い車もよく走ってる。日本じゃ違法だと思うけど、こっちは別になんともないんだろうか。

イルミネーションがハンパない

ホストさんのおうちの周辺は、イルミネーションで飾り付けしているおうちが多くて、あたりがまるでおとぎの国みたいになっている。サボテンをオーナメントで飾っている家も多いし、サボテンにちなんだ装飾もよく見かける。
特に隣の隣の家はその装飾がハンパなくて、もう、まるで遊園地みたくなっている。
買い物帰りにいつも立ち止まって見入ってしまう。まじですごい。