Mio Tsugawa resumed
It has been almost 3 years since I stopped kusudama creation activity. Many friends encouraged me and supported me a lot.
So, I was able to resume it again.
I really thank from the bottom of my heart.

The world of kusudama is very mysterious and exciting, it never bores me.
There are many things I want to try.

I think it's very nice if I can make new kusudama friends or kusudamaholics.

I wish you enjoy it together with me.

Kisses.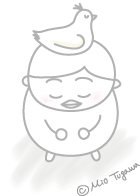 04 Jun. 2013