Fancy frame changed form several times before it became the final form.
This is the report that introduce that process of evolution.
1. Arabesque joint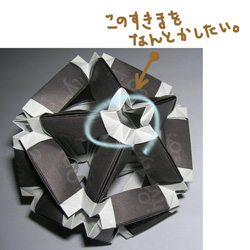 I wanted to use Arabesque joint to join parts together.
Then, I created the first work.
The work has a hole at the point that 5 parts are gathered, is missing in stability.
Top
2. Try to change the form of joint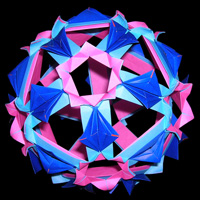 I tried to change the form of joint.
The hole of star became the Pentagon, is in stability more.
Top
3. Ideal form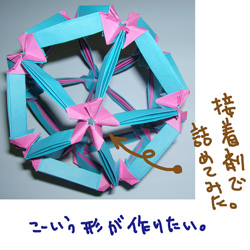 I made a model which I want to create to be able to catch it more sensuously.Glue was used to fill a hole.
Top
4. The last form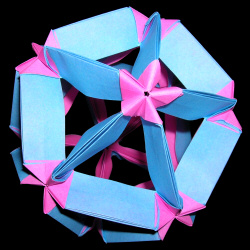 Fancy frame / fancy frame
© Mio Tsugawa
Created : Jul . 2009
Parts : 30
Joining type : Modular type / Arabesque joint
This is the last form of Fancy frame.
It is slightly different from my ideal form.But it is not bad.
Arabesque joint is used for joining parts together.

Fancy frame ver.Diamond
Top