Inspiration
(C) Mio Tsugawa
created : Jul. 2013
parts : 30
paper size : 7.5 cm
Joint type : Modular type
Joining materials : No use
It's arrangement works of Sonobe unit.
All lines of the work have different width and are not put regularly.
You can design the pattern as you like.
This is a Christmas present for origami friends from Mio.
Enjoy it and make your new design works!!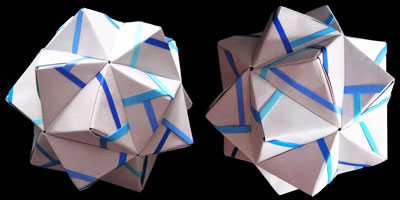 インスピレーション
パーツ : 30
紙のサイズ : 7.5 cm
ジョイントタイプ : モジュラータイプ
ジョイント方法 : 組み合わせ
まとめ材 : なし
園部ユニットのアレンジです。
ラインの位置がばらばら。ラインの幅もばらばら。
この模様は、自分で自由に設計できます。
これは Mio さんからのクリスマスプレゼントです。
楽しんでください !!