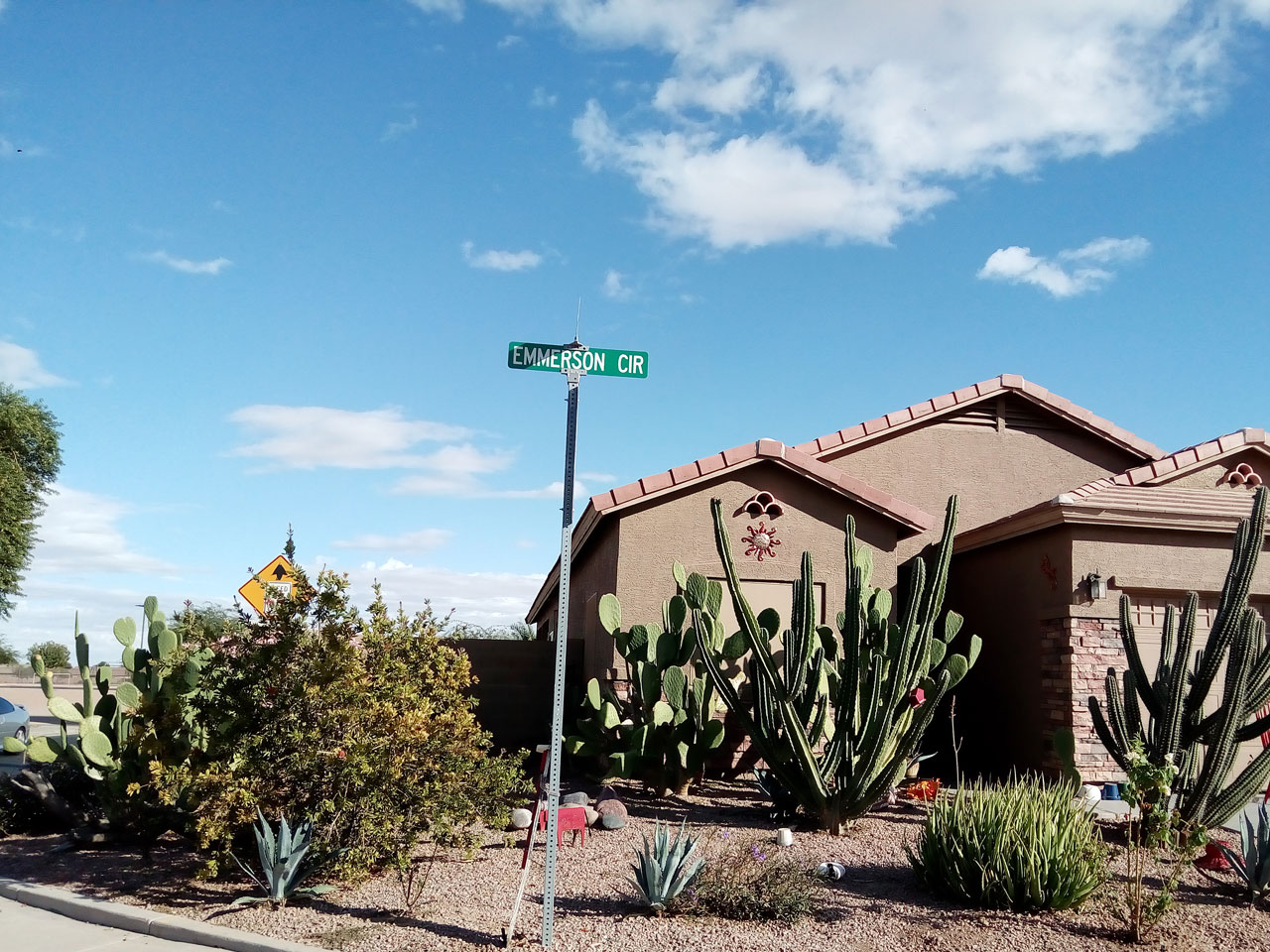 The sky is having beautiful blue since I came here.
The weather is perfect for me, is not hot and not cold.
All houses are very similar in this area and people have a lot of big cactuses in their gardens.
When I went shopping at the first time, I was not able to come back straightly.
Those similar houses confused me about which house was my host house, so I was completely at a loss…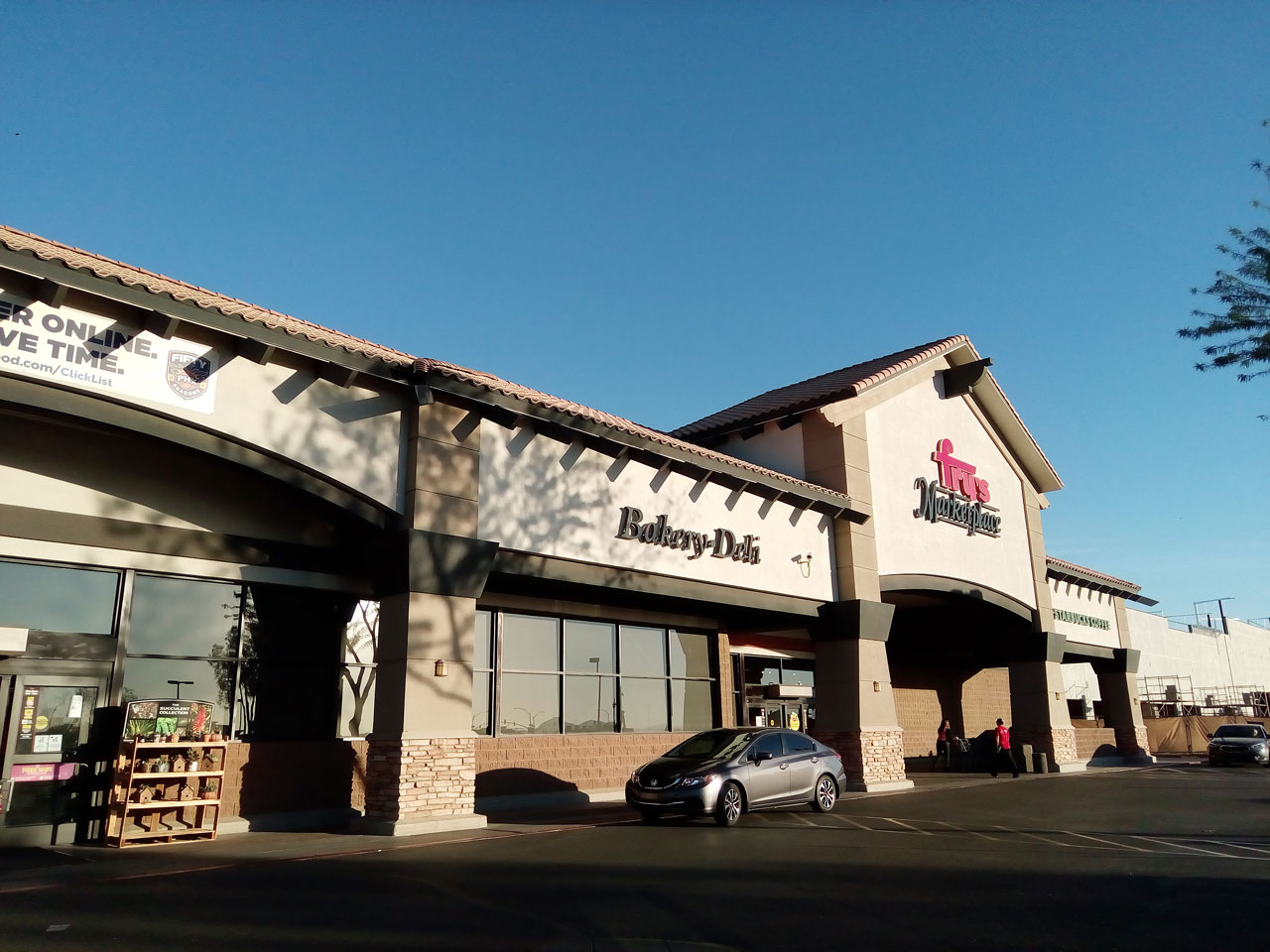 There is a big store about 25 minutes walk from the host house.
The name is "Fry's".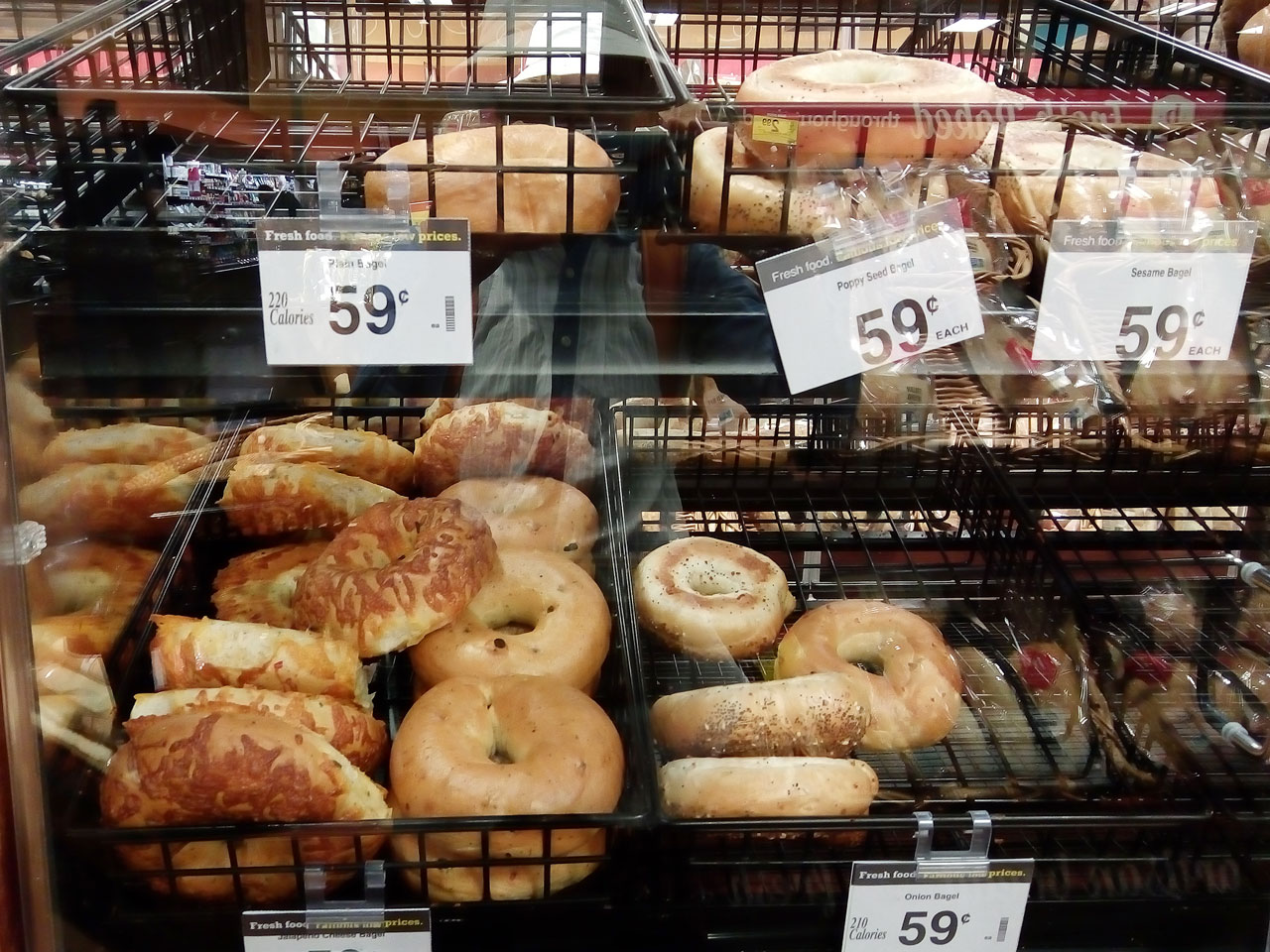 Bagels are my favorite foods and I tried them some when I'd been L.A. around 16 years ago.
There are some bagels in Japan, but I never tried them, because I wondered they were not the same. (It's my thought.)
Also, I didn't see any bagels in this trips in Europa, so to eat bagels if I've gotten to U.S.A. was one of my plans.
Then, I got an onion bagel on my birthday. That's all bagel I ate in here.
I'm still into rice cakes, and am into tortilla chips recently…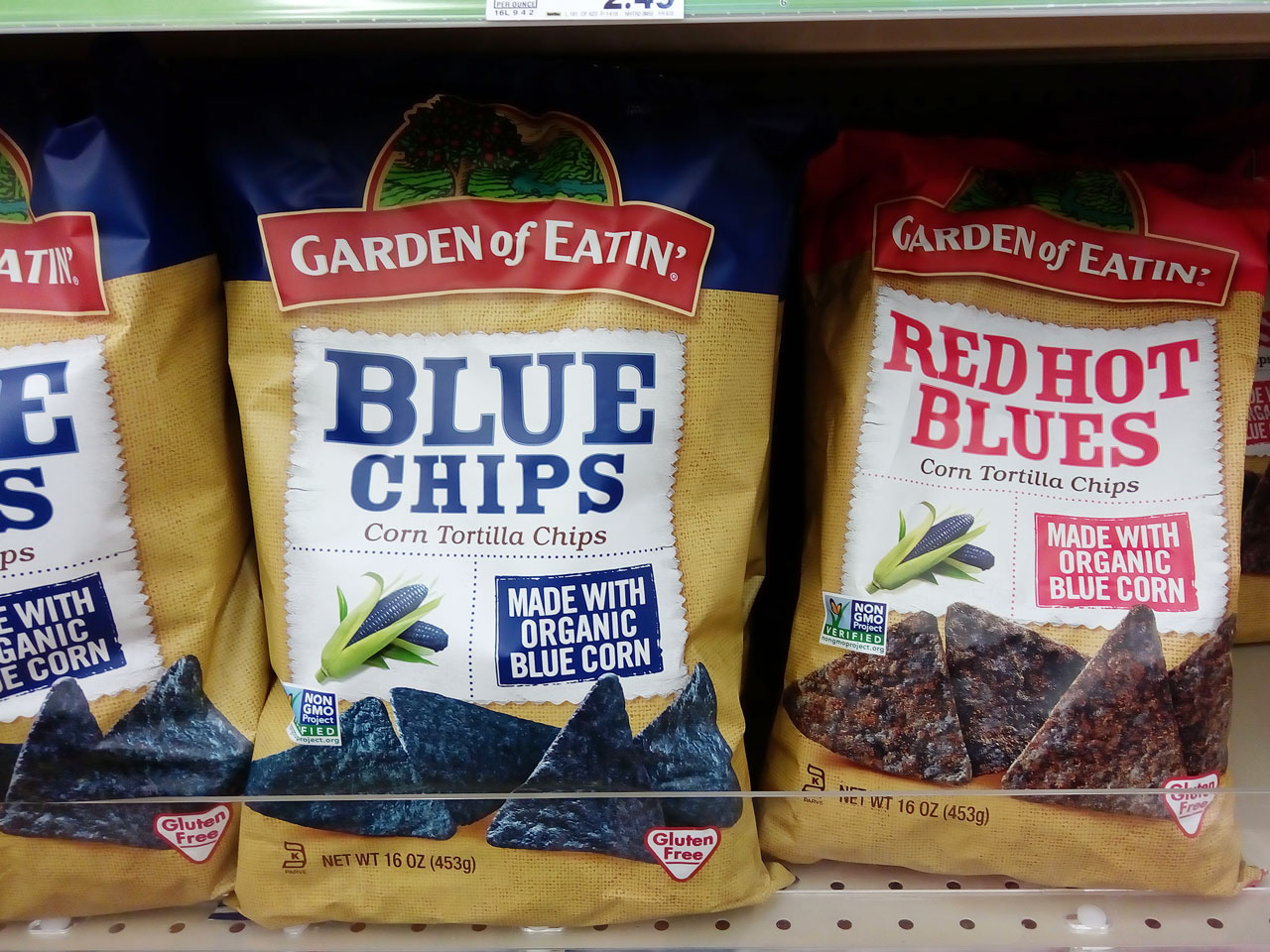 Wow!! It's the first time I see blue corn chips. I'd like to try it sometime!!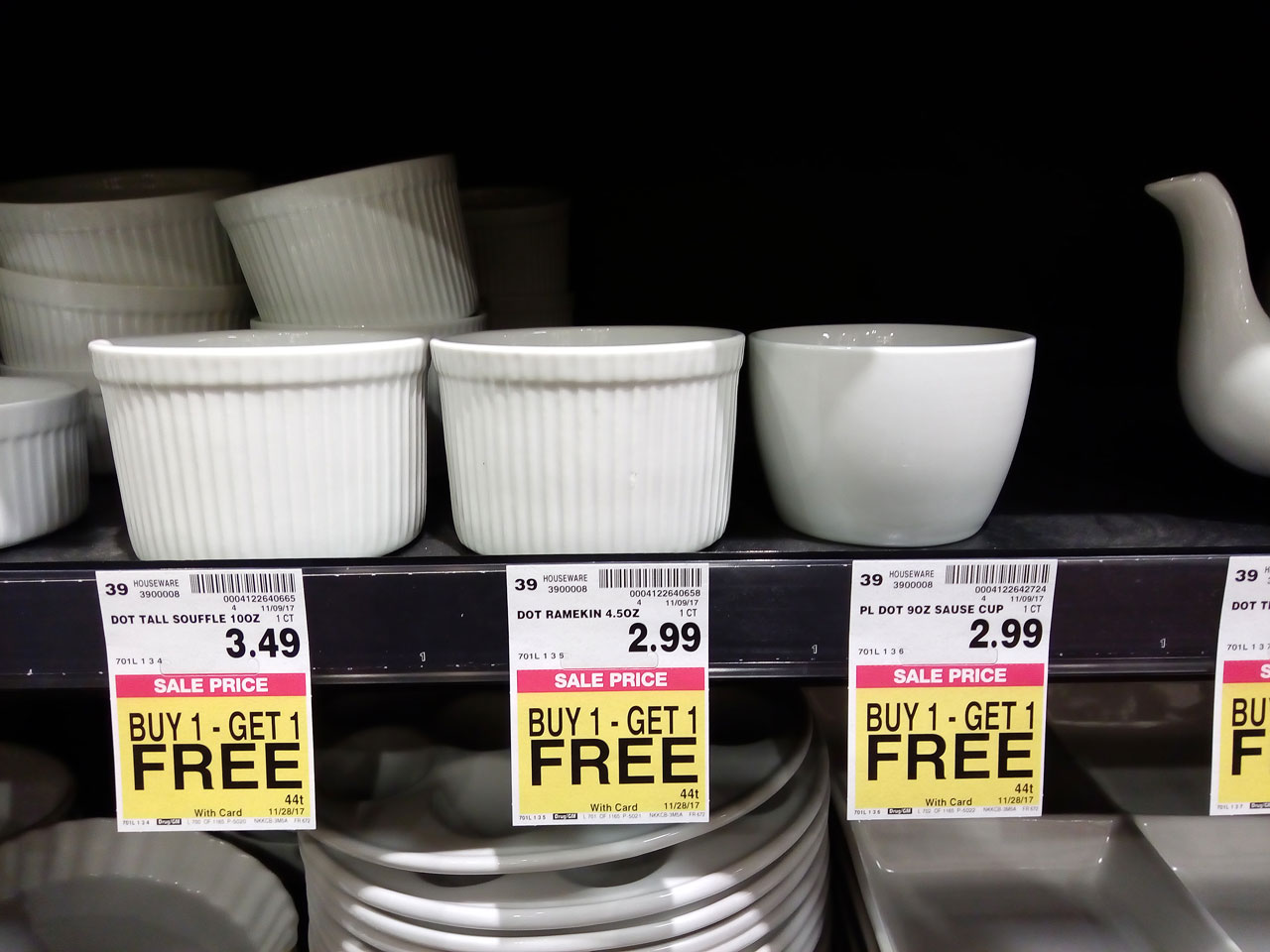 Why they will not name their prices a half price???
Yesterday, I went to the store as usual, but some kinds of stuff were low stocks. I was very surprised. I thought because Thanksgiving day is coming.
マリコパの日常生活 No.1
マリコパの天候
マリコパは快晴が続いている。暑くもなく、寒くもなく。素晴らしい気候。
マリコパ庭園っていうんだろうか。おうちの前の庭に、でっかいサボテンを植えるっていうスタイル。
このあたりの家は、だいたいそんな庭をしている。さらに、家がどれも似通っている。
初めてスーパーマーケットに行った帰り、どれがホストさんのおうちなのか、見分けがつかなくなって困った。
マリコパのスーパーマーケット
風景がだだっ広くて、距離感がつかみにくい。
Googleで調べた時は、結構近いところにスーパーマーケットがあると思っていたけど、一番近いところで、歩いて片道 25分くらいかかった。普段あんまり運動をしないので、エクササイズのいい機会かもしれない。
スーパーマーケットの名前は "Fry's(フライズ)"。
でっかいスーパーだ。置いてある品物は、イタリア並にでかいサイズのものが多い。
アイスクリームのバケツサイズは、やっぱり迫力ある。
お菓子やケーキの色のどぎついのは、ヨーロッパと同じ。それ、粘土でしょう? って言いたくなるような色をしている。
(今度写真を撮ろうかな。)
アメリカに来たら絶対ベーグルを食べてやろうって思っていた。
でも、誕生日にオニオンベーグルを一個買って食べただけ。
なぜかまだ、ライスケーキにはまっている。さらに最近は、トルティーヤチップスにもはまっている。
どうやら、私のパンブームは過ぎたのらしい。まぁ、セルビアに居た時もパンを食べたのは3回くらいだったけど。
ブルーコーンで作られているというトルティーヤチップスを発見した。
初めてみた。かなりインパクトがある。
日本でこれを見たら、きっと 「イカスミチップス」 だと思うに違いない。と思った。
いつか試してみよう。
アメリカのショップでは、「Buy 1, Get 1 free」 という表示をよく見かける。
つまり、ひとつ買うと、ひとつおまけ。っちゅうことだ。
それなら、半額にしろよ。って思う。 ふたつもいらんがな。
(でも、そう思うのは関西圏の人の特徴なのらしい。嘘かホントか知らんけど。いつか、テレビでやっていた。)
昨日は、フィラデルフィアのクリームチーズが普段 2.49ドルのところ、3つ買うと 5ドル。ってなってた。
3つもいらんっ、と思いつつ、チーズ好きの私はかなり迷ったりして。
—-
カークランド オーガニック トルティーヤ チップス 1.13kg
森永乳業 クラフト フィラデルフィアクリームチーズ 200g