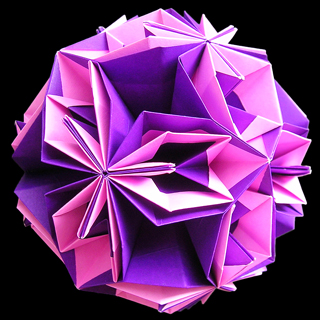 (C)Mio Tsugawa
Created : Jan. 2017
Drawing : not yet
Parts : 24
Paper size : 7.5cm
Assembling type : Paste type
Assembling material : glue
This work is an arrangement of Mitsuwari Asanoha.
I named works of this series after Kamons (家紋) which are Japanese emblems.
The Kamon is very geometrical and beautiful.
There are kind of around 5,000 designs in traditional kamon, and some specialized book has more than 20,000 designs apparently.
Mitsuwari Yamazakura

Mitsuwari Asanoha

You can see more than 9,000 kamons in this site.
Kamon no zukan
Also, wiki has some.
家紋の一覧-wiki
Mon–wiki
三つ割り山桜
「三つ割り麻の葉」のアレンジです。
てんてんてまりシリーズには、すべて家紋にちなんだ名前をつけています。
家紋って幾何学的で、美しい。とっても不思議。
よくこんなデザイン考えるなー。と感心してしまう。
—
さて、今日の BGM は、ふつーの洋楽。
なんか、面白いなー。と思ったビデオを集めて聴いていました。
Carly Rae Jepsen – I Really Like You
なんかどこかでよく聴く曲だけど、トム・ハンクスが歌っているとは知らなかった(←笑うとこ)
途中のセリフの「I'm pregnant.」もトム・ハンクスが言ってて笑った。
Panic! At The Disco: Victorious [OFFICIAL VIDEO]
一度聴くと耳について離れない。
すごい旋律。結構好き。
Missy Elliott – Get Ur Freak On [OFFICIAL VIDEO]
曲の出だしにぎょっとした。あれ? 洋楽だよな??? って。
途中の「1.2.3.4」も面白い。
まぁ、特に曲には興味ないかも。
トミタ栞 feat. Ladybeard 『バレンタイン・キッス』ミュージックビデオ(Short Ver.)
おまけ。邦楽です。
昨年もこの時期に見てた。
なんかよくわからないけど、見るたびに笑ってしまう。
—


ゴディバ(GODIVA) ラッピングトリュフアソートMMH 9粒