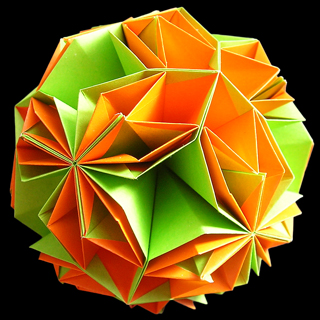 (C)Mio Tsugawa
Created : Jan. 2017
Drawing : not yet
Parts : 24
Paper size : 7.5cm
Assembling type : Paste type
Assembling material : glue
I made a work which is using glue to an assembling for the first time in a while, and this is my new model in kusudama.
The appearance is very similar to temtemtemari.
But the points 3 parts gather and points 4 parts gather replace each other.
Also, the size of completed work is slightly smaller than temtemtemari.
久しぶりに接着タイプのくす玉です。
見た目はてんてんてまりにそっくりですけど、3つ集まるポイントと4つ集まるポイントが入れ替わってます。
仕上がりのサイズもてんてんてまりよりも少し小さめ。
まるっこい この形が可愛くて思わず アレンジを3つ作りました。
ずっと見てても飽きないです。
—
さて、今日の BGM は、Troye Sivan.
ふつーの洋楽ですけど、声が綺麗。音楽の流れが優しい。
彼自身のこともインタビューとか見て、なんかしっかり自分の考え方を持っててすごいな。とか思ったり。
Troye Sivan – HEAVEN ft. Betty Who
Troye Sivan – YOUTH
Troye Sivan – Blue Neighbourhood Trilogy (Director's Cut)
すんごい長い曲のようですけど、3つの曲が収録されてます。
1曲目は "WILD"、2曲目は "FOOLS"、3曲目は"TAKE ME DOWN"。