Distributed a new diagram to my patrons.
The monthly diagrams of this month for my patrons have been distributed already.
It includes new works, which are "Polska I" and "Polska II".

今月のマンスリー折り図。
新しい作品「ポルスカ」。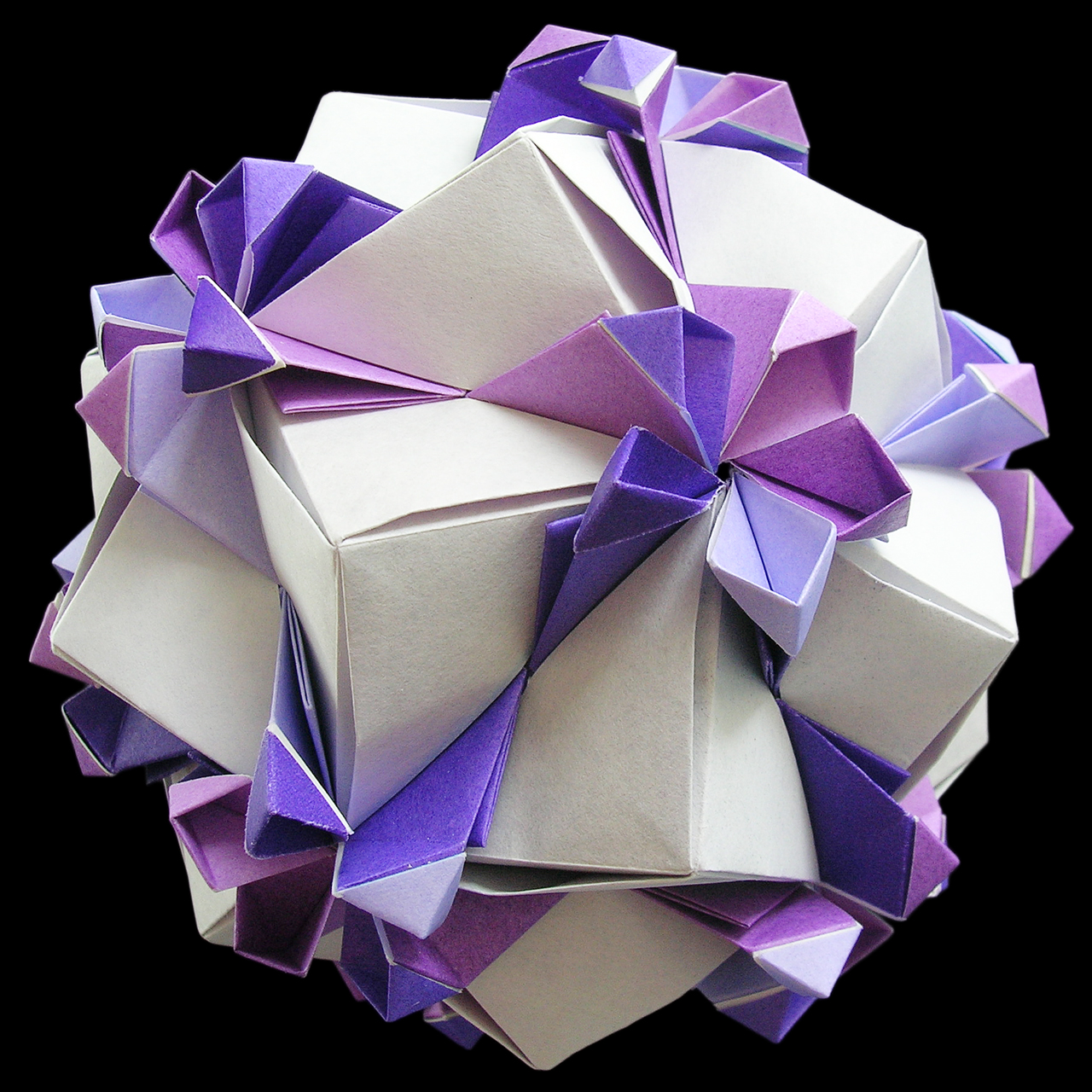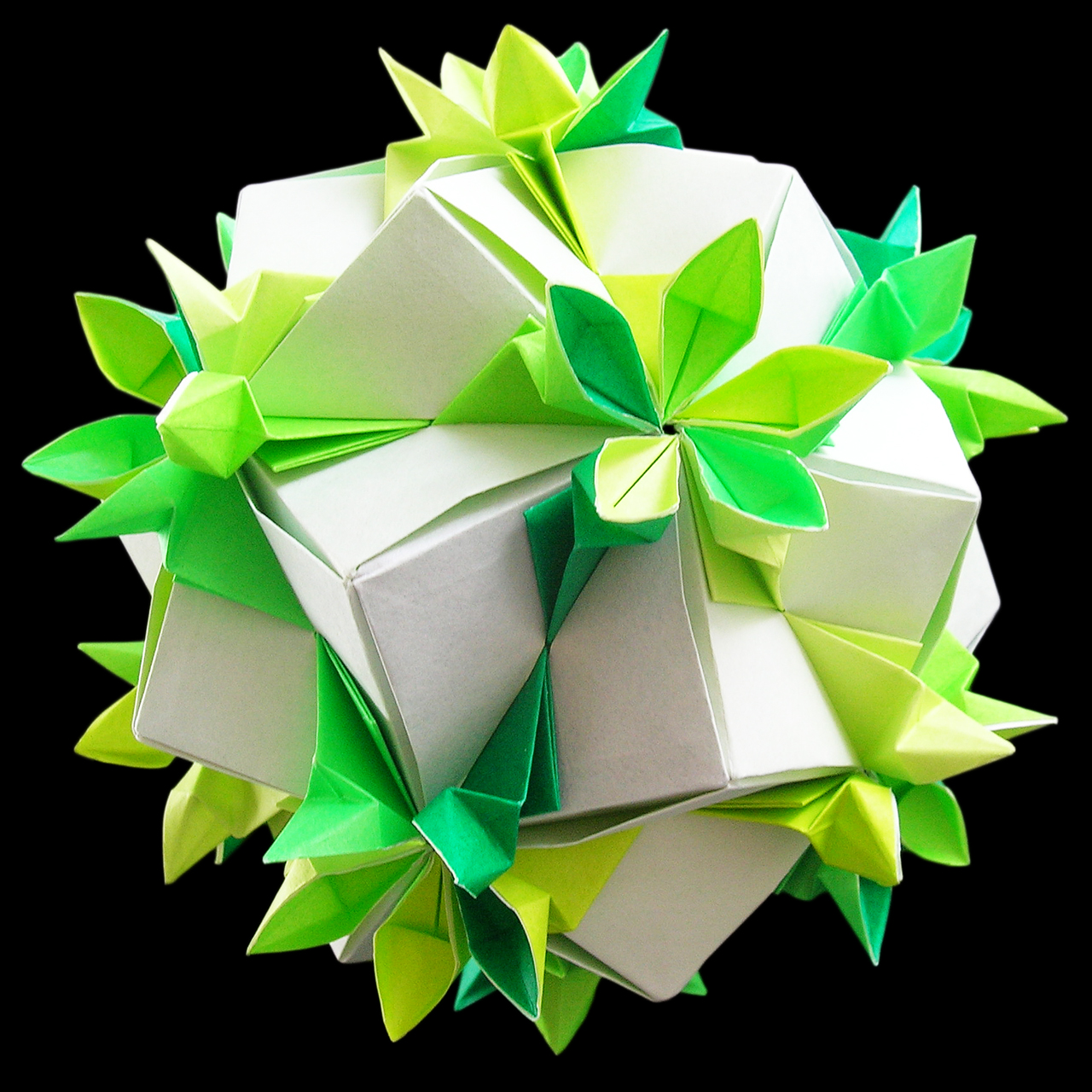 The work data of Polska
Created : Dec. 2018
Drawing : Dec. 2018

Joining method : Fold-lock-joint

Number of a part : 30
Paper size : 7.5cm
フォールド・ロックジョイントとは / What is the "Fold-lock-joint"?
A part has flaps and pockets, but the connecting way only inserting the flap into the pocket makes each part come off easily.
Then I made more foldings at part of the joint and locked each part, it's the fold-lock-joint.
As regards Polska, petals of flowers are connecting and locking parts.

フォールド・ロックジョイント
は、モジュラータイプのパーツをつなぐ方法のひとつ。
たいていのモジュラータイプのパーツは、フラップとポケットを持っている。しかしモデルによっては、フラップをポケットに挿入するだけでは、組んだパーツが簡単に外れてしまうこともあったりするんだな。
この組んだ部分が外れやすいということのデメリットは
部品が組みにくい
仕上がった作品に安定性が欠ける
なんぞがある。
そこで、そういう作品に対しては、ジョイント部分に、さらに「折りたたみ」を作り、各パーツにロックがかかるようにする。
そうすると、より組みやすくなるし、がっしりとした仕上りになる。
このパーツをコネクトする方法が「
フォールド・ロックジョイント
」。
なんかすんげぇいい感じで説明しているが、実は勝手に私が名前をつけてそう呼んでいるだけ。
モジュラー折り紙業界の常識ではない。あしからず。
このポルスカに関しては、花の部分がジョイント部分。
花弁を作ることによって、各パーツをロックしている。
ポルスカの特徴 / The characteristic of Polska
その1 / No.1
Polska has two big characteristics, one is about colors of flower's petals.

The petal will be able to have different colors on the inside and the outside if it will be folded with various color's origami paper.

ポルスカにはふたつの特徴がある。
ひとつは、花弁の色。
いろんな色の折り紙で折ると、花弁の内側の色と外側の色が変わる。

なぜ、そうなるのか。
作ってみたらわかる。(←教えない。図面買ってごしなれ。←鳥取弁)
その2 / No.2
The other is about the expansion plan.

There is one work I made in 2010, name is "Polonaise".

The shape of Polonaise is very different from Polska, but the expansion plan of Polska is very similar to its Polonaise. I think these are almost the same.
So it can be said that it is only a difference of the valley-folds and the mountain-folds.

もうひとつは展開図。 ポロネーズという2010年に創作した作品がある。
このポロネーズとポルスカは見た目はさっぱり違うが、このふたつの作品の展開図 (パーツを折った後、それを広げた時にできた折り線) は、ほぼ同じ。

つまり、このふたつの作品の違いがどこから生まれてくるのかと言えば、単に山折りと谷折りの違い。っちゅうことなのだ。

むかしむかしこのブログに、「正方形の山折り線と谷折り線の中に、宇宙がある。」と書いたことがある。
こういう作品に出会うと、つくづくそう実感する。

この宇宙を作っているのは誰かと言えば、もちろん『神さま』なんだろうなぁ。と思う。
私はいつも 「かみさま」 に遊んでもらっている。


図面販売しています / Diagrams are sold on Patreon
I made two more Pledges in Patreon.

It's $15, which you can buy 5 diagrams.
And $30, which you can buy 10 diagrams.

You can choose diagrams you want in my web shop. There are the diagrams of "Polonaise" and "Polska", also.

All diagrams are PDF files.

Patreon というクリエイター支援サイトで図面の販売中。

5部で$15ドル。
10部で$30ドル。

図面はショップの中から選択可。→ origamio.com shop.