Clover / クローバー
The monthly diagram of Sep. 2022 for $3 patrons on Patreon has been distributed yesterday.
The diagram is "Clover".

The works are modular type, 30 parts, with square paper, no glued.

 Patreon で2022年9月の$3ドルのパトロンさま向けのマンスリー折り図が配信されました。「クローバー」です。作品は、モジュラータイプでパーツは30個。正方形の紙から作られています。接着剤は必要ありません。


Characteristics / 特徴
A joining method that I named "Rosette joint" is one of "Flap and Pocket joint" that connect parts using flaps and pockets. The direction of insertion of the flap is rotated 90 degrees with respect to the Sonobe unit.

The first work I made it was "Rosette" (that's why I call the joint name is "Rosette joint"), the works of "Clover" have a different ratio.

The finished part is one-third the width of the original square of paper.

You will also learn how to accurately trisect a square piece of paper with this works.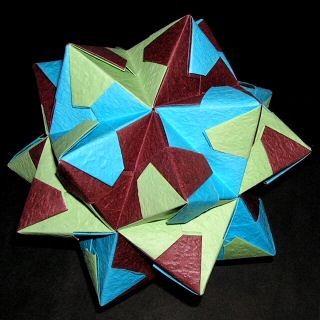 この作品に使われているパーツをつなぐジョイニングメソッドは「ロゼッタジョイント」。フラップとポケットを使ってパーツをつなぐ「フラップ&ポケットジョイント」のひとつですが、そのべユニットに対し、パーツの差し込み口が90度回転しています。一番最初に作った作品が「ロゼッタ(花結び)」なので、ジョイニングメソッドにこの名前がついています。

今月のこの「クローバー」は、ロゼッタの比率違いの作品です。
仕上がったパーツの幅が元の正方形の紙の3分1になっています。

この作品を作ると、同時に正方形の紙を正確に三等分する方法も学べます。
Thank you for your support!! / 創作活動を応援してくださると嬉しいです!!
Through the art activity of creating kusudama, I would like to make it easy for everyone to enjoy geometric art.
Please support my creative activities.



Patreon または キャンプファイヤーでは、毎月あたらしい作品の折り図を2点配布しています。
ぜひ一緒にくす玉おりがみを楽しみましょー!!!