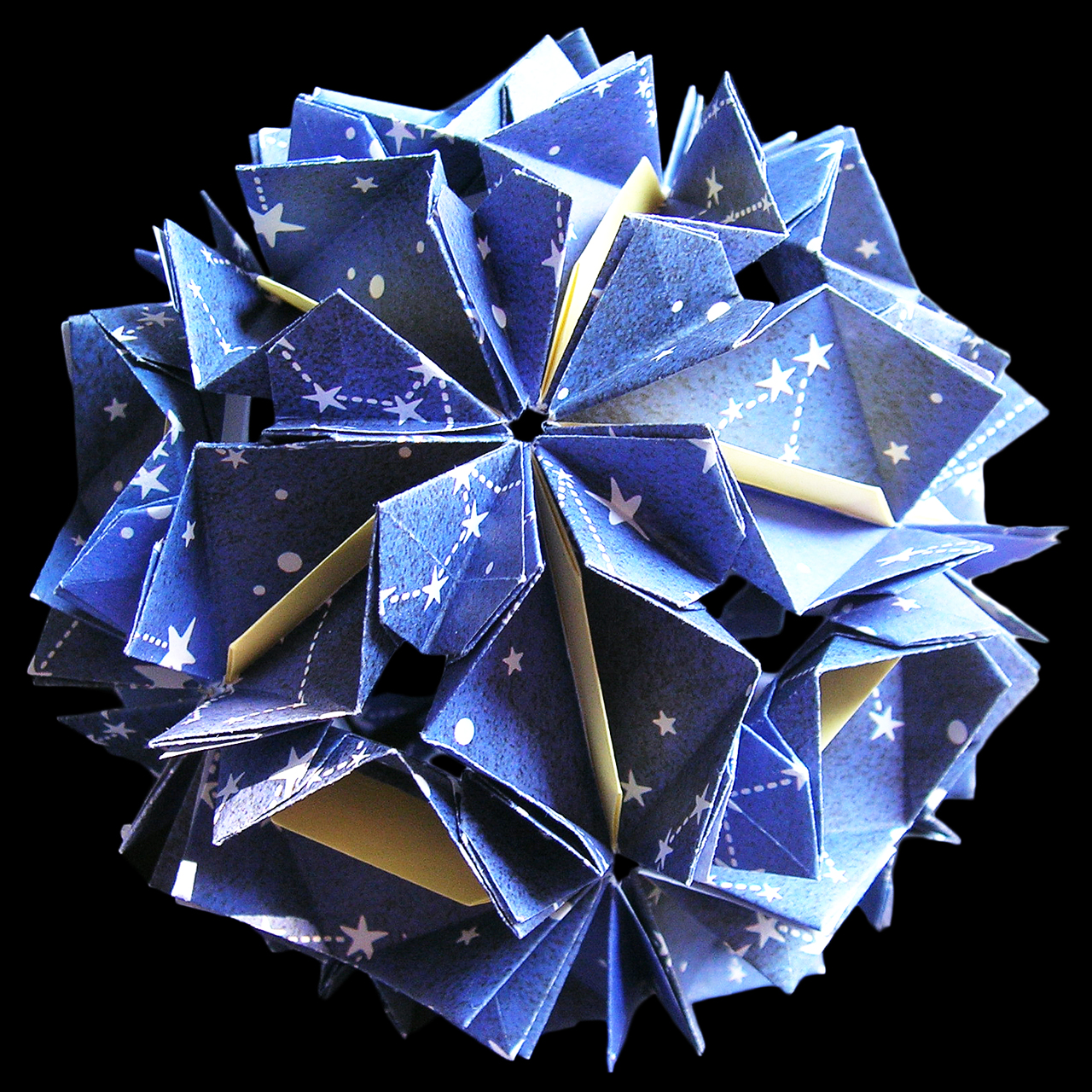 The work data
Created : Jan. 2011
Drawing : Feb. 2019
Joining method : Flap and Pocket joint

Number of a part : 30, Decoration-part : 30
Paper size : 7.5cm, Decoration-part : 3.75cm

ちょっとしたアクセントのデコレーションパーツ "プレート" / Decorated Furiant
A work of Furiant that I drew a diagram as monthly diagram this month has a 1/8 rectangle standard.

And this is Furiant which is decorated with decoration part of "Plate".

今月のマンスリー折り図のフリアントをデコレーションパーツの「プレート」で飾ってみた。
1/8 矩形規格とは何か / What is a 1/8 rectangle standard
In modular origami, it's conceivable when the work is decorated with a decoration part, a part of work has a pocket as a socket and a decoration part has a flap as a plug.

A size of an insertion port of the flap and pocket is called a "standard".

1/8 rectangle standard means that the insertion port will be an eighth part of paper using to the body part.

デコレーションパーツで作品を飾る時、モジュラー折り紙の場合、本体の作品のパーツにソケット(ポケット)が、デコレーションパーツにはプラグ(フラップ)がある。というように考えることができる。このソケットやプラグの差込口のサイズを「規格」で表している。(私は)。

「1/8矩形規格」とは、ソケットやプラグの差し込み口のサイズが本体に使われている紙の1/8サイズというっちゅうこと。
Works decorated with Plate
The decoration part of Plate is the easiest to fold in works having a 1/8 rectangle standard.
I used the deco-part to many works which has the 1/8 rectangle standard.

How to fold is included a diagram "Sham decoration prats collection".
デコレーションパーツの「プレート」は1/8矩形規格の中で一番簡単。ちょっとしたアクセントになるので、1/8矩形規格の色んな作品に使っている。

このプレートの折り方は、シャム デコレーションパーツコレクションに掲載。