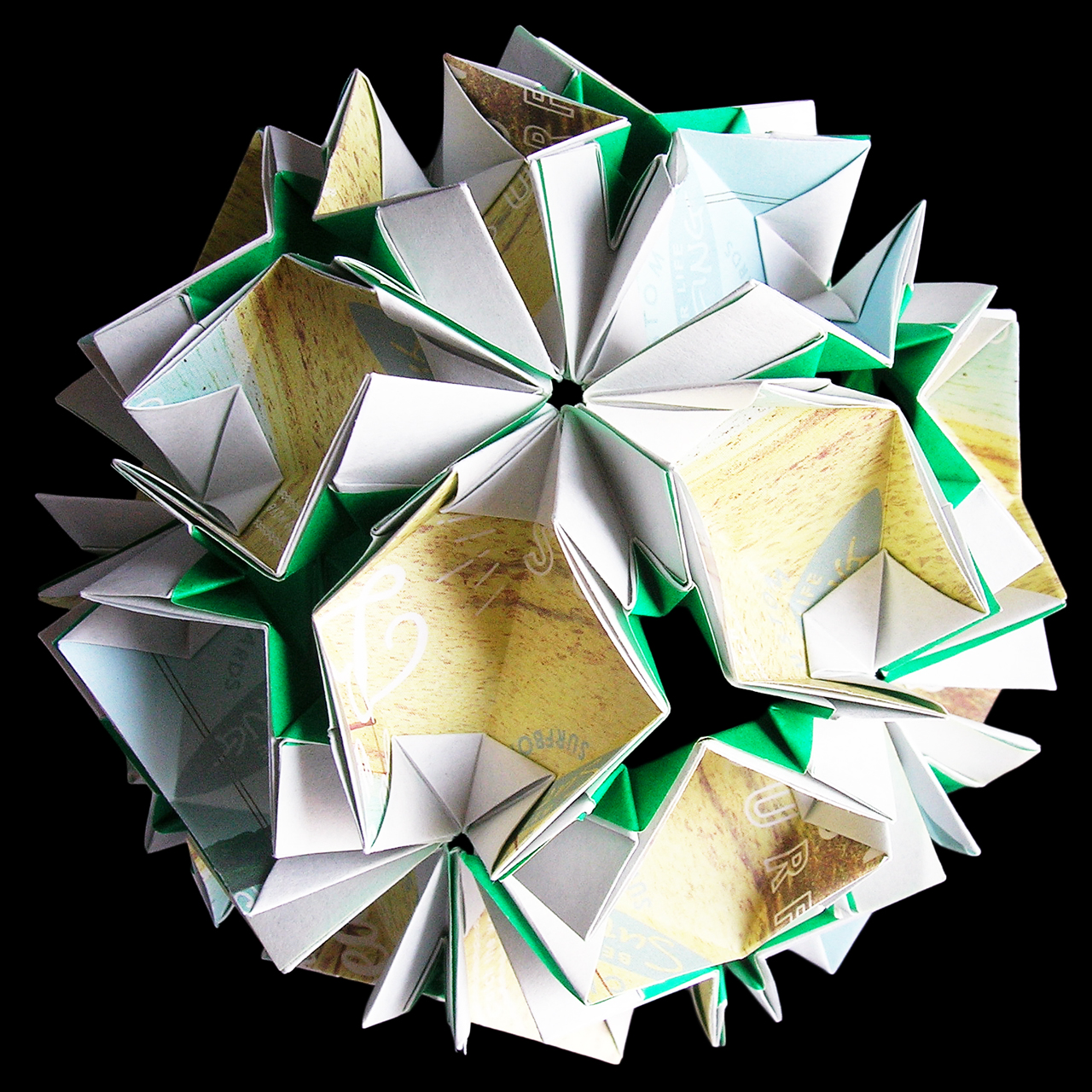 Work Data
Created : Sep. 2010
Drawing : Feb. 2019

Type of Assembling : Modular-type
Joining method : Arabesque-joint

Number of a part : 30, Decoration-part : 30
Paper size : 7.5cm square, Decoration-part : 3.75cm square
3月の折り図 / A new diagram of March 2019
I've just finished drawing a diagram of the next month, March 2019 .
The name of work is Ländler sharp type, created in Sep. 2010.
This is one of Kusudama-suites work whose Arabesque-joint is used for the assembling as modular-type.

2019年3月の3ドルのパトロンさま向けの折り図完成。
作品名は「レントラー」。くすだま組曲のひとつで2010年9月の創作。ジョイニングメソッドは「アラベスクジョイント」。
アラベスクジョイントとは何か / What is Arabesque-joint
Arabesque-joint is one of the methods of assembling for Modular-type of modular origami which doesn't need glue.

A part has two flaps and two pockets, it's used to connect them, but almost they don't work.
Then to lock joint will be needed.
Added locking on the joint by one or two folding is used to connect them strongly.

It might be able to be said that it's like Fold lock joint, but it's very unique and characteristic.
I used this technique for a work of Arabesque first, then I call it "Arabesque-joint".

You can try this method by making a work of Arabesque. This diagram has been shown on my website for free.



「アラベスクジョイント」は接着剤を用いないモジュラータイプに用いられる、ジョイニングメソッドのひとつ。
アラベスクジョイントのパーツにはふたつのフラップとポケットがあるけど、これがさっぱり働かない。するする外れる。このフラップとポケットは、お互いの繋がる位置を決めることはできても、実際に繋がることができないんだな。
そこで、フラップをポケットに差し込んだジョイントに一度折りを加え、その折り畳まれたジョイント部分を全体的にさらに折り曲げてロックを掛ける。

そうすると、摩訶不思議。がっちり繋がる。

フラップとポケットを利用し、折りを加えてロックを掛ける技は一種の「フォールドロックジョイント」とも言える。が、わたしゃぁー、そう呼ばない。
こんなにもユニークで特徴的な技なのだ。ちょっと粋に呼びたい。
ということで、私は 「アラベスクジョイント」 と(勝手に)呼んでいる。

名前の由来は、一番最初にこの技を使った作品、2006年創作の「アラベスク」という作品名から。
アラベスクジョイントが一体何なのか。実際に作ってみるとよくわかるかも。

What is "Fold-lock-joint ??"
フォールドロックジョイントとは何か ??
レントラーの特徴 / Characteristics of Ländler
There are two big characteristics of Ländler.
レントラーには大きなふたつの特徴がある。
No.1 : デコパーツ / with decoration-part
The work can be decorated with decoration part which has quarter square standard.
You can change body part color and patterns by changing the decoration part.
Also, you make it can be gorgeous by decorating with decoration parts having a three-dimensional.

The diagram of decoration part variations might be distributed for patrons who are $10 or more as the monthly diagram of March 2019.

くすだま組曲作品のひとつに「マズルカ」という作品がある。ジョイニングメソッドはアラベスクジョイント。
見た目も構造もこのレントラーにそっくりだが、大きく違うところがひとつ。
それは、レントラーはデコレーションパーツで飾ることができる、ということだ。規格はクォータースクエア (1/4正方形)。

小さな紙片をパーツに挟むだけで、パーツの色や柄を変えることができる。
もちろん立体的なデコパーツで、ゴージャスに飾ることもできる。

などと言いつつ、そう言えばクォータースクエアの規格を持つ作品はいくつか創作したけど、どれもデコレーションパーツは「クォータースクエア」しか作ってないかも。と気がついた。

と、いうことでしばらくクォータースクエア規格と遊んでいた。
このクォータースクエアのデコパーツの図面は、2019年3月の$10以上のパトロンさまに配布予定。たぶん。
No.2 : 簡単な組み立て / Easier assembling
The assembling of this work is easier than other works in Kusudama suits series I introduced recently. Easy to insert a flap into a pocket, and easy to lock, then they will be connected strongly.

It can be recommended for beginners.

今までブログで紹介したどのくすだま組曲作品よりも、組み立てがすごく簡単。
特別な技なんぞ、一切必要ナシ。

フラップがポケットにすんなり入る。
ロックが掛けやすい。
簡単なのにがっちり繋がる。
外れにくい。 さすがアラベスクジョイント!! 格闘せずに組み立てられる 「夢の(??)作品」。

ぜひお試しあれ。



---
Origami Paper 200 Sheets 6 Inch: Double-Sided