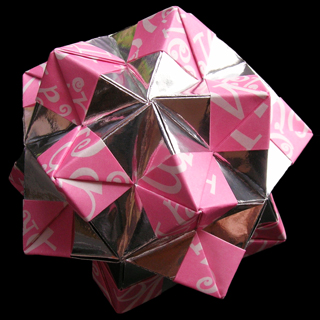 ■work data
©Mio Tsugawa
Created : Jul. 2016
Diagram : Not yet.
Joining method : Multi modular joint
Joining material : No use.
Number of part : 60
This work was modified by Yubikiri.
I named this work "Kaleidoscope", because it has a lot of beautiful variations.
You can see these works soon in my blog, might be.
新作です。と、言っても指切りの改変バージョンです。
何が違うかって言うと、五角部に螺旋が無い。それだけ。
だけど、結構気に入ってます。
作品名の Kaleidoscope(カレイドスコープ)とは、万華鏡のこと。
—-
雑談。
今日、ふと本棚を見ると、棚の上に置いてあった蚊取り線香(夏に使っていた)が落下して、灰が散らばってたんだな。
何があったのかはわからない。地震でも落ちなかったのに、な、なんちゅーこっちゃ。
と、ぶつぶつ言いつつ、仕方なく、掃除機をかけることに。
掃除機にツイッチを入れると、なんか私もスイッチが入って、
「ついでだ」と勢いで部屋中に掃除機をぶーん。ぶーん。
そうしていると、なぜか、フローリングの床に水たまりを発見!!!
なんだ。なんだ。何が起こってるんだ????
と、よく見ると、回していた洗濯機の周りに水があふれて、洗濯機が小島のようになっているではないか!!!
あわてて、洗濯機を停止。雑巾でフローリングに溜まっている水をせっせと吸収。キッチンでジャージャー絞ること、何十回。
どうも洗濯機の排水口が詰まっているらしかった。
速攻、大家さんに「助けてー」と電話したら、親切な大家さんも神対応。すぐに業者さんを手配してくださった。
業者さんを待ってる間、私はいろいろ想像。その業者さんが来てくださった時にもしかすると「トイレ行きたいです」。みたいなこともありえるかもしれないな。と、いそいそとトイレ掃除もしたりして。
業者さんはすぐに来てくださって、排水溝をチェック。どうもナントカカントカという部品にサビが溜まっているというような説明をして、直してくださった。
業者さんはトイレに行くこともなく、作業を終えると颯爽と去って行かれた。20分もいなかったと思う。
なんかよくわからないが、いろいろまとめてみると、
今日私は、やるつもりのなかった掃除機を部屋全体にかけ、
このアパートに越してきて一度もやったことのないフロアの雑巾掛けなどというものをやり、
しばらく放置して、目も当てられなかったトイレの掃除をやり、
プロの業者さんの手で排水口も綺麗になった。
という状態になった。
なんか本当にすごい。
ほんと、物事っちゅうものは、よくできてるもんだなぁ。
よし。
ちょっと早いけど、これで年末の大掃除をしたことにしよう。(←年末掃除をしないつもり)