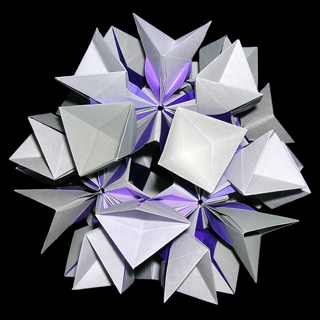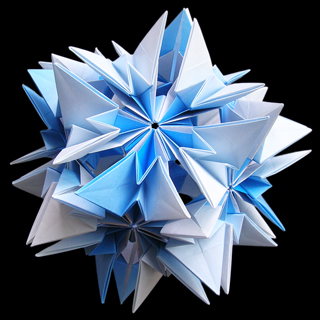 ■Works Data
Created : Aug.2016
Drawing : Not yet.
Type of Assembling : Modular type
Method of joining : Arabesque joint
Parts : 30
Paper size : 7.5 × 3.75cm
The photo of top is Themis, and the photo of bottom is Neith.
These works are developed works from Rectangle Arabesque.
Themis is other type of Janus.
And Neith is other type of Lilith.
But, both of them are very hard to fold.
Especially Themis's folding is the hardest in all my works ever, I think.
Assembling doesn't need glue, and joining method is the Arabesque joint.
テミスとネイト
長方形アラベスクから発展した作品です。
両方とも、ちょーちょーちょーハードな折り方をします。
特に、テミスはこれまでの私の作品の中で最高難易度かもしれません。もちろん折り図なんて描けまへん。動画でも難しいんじゃぁないかと思います。でもかといって、テミスを展開してみると、たいした折り線はありません。垂直、水平、45度、-45度。たったこれだけの折り線です。(22.5度さえ無い!!)。
いやぁ、すごいね。折り紙って。山折り、谷折りの繰り返しだけで、想像もつかないような形が生まれる。
ずっとむかし「ヒカルの碁」というアニメで、誰かが「碁盤の目に宇宙がある」みたいなことを言っていたけど、私にゃ、この正方形という紙の山折り谷折りの線の中に宇宙があるような気がする。
Themis(テミス)と Neith(ネイト)という名前はどちらも仮説上の星から。
テミスは土星のまぼろしの衛星、ネイトは金星のまぼろしの衛星。観測されたっぽい天体らしいですが、どちらも存在しないとされているんだそうな。
—-