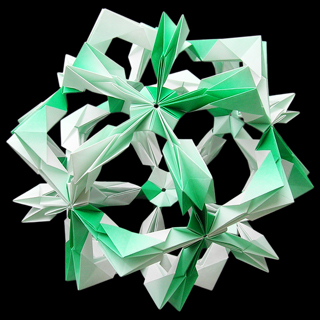 ■Works Data
Created : Aug.2016
Drawing : Not yet.
Type of Assembling : Modular type
Method of joining : Arabesque joint
Parts : 30
Paper size : 7.5 × 3.75cm
This work is one of developed work from Rectangle Arabesque.
Assembling doesn't need glue, and joining method is the Arabesque joint.
アトラス
長方形アラベスクから発展した作品です。
長方形アラベスクシリーズ、どんどん増殖中。
この「アトラス」は折り方はさほど難しく無いですが、やはり折り図には描きづらいかも。
アトラスはアラベスク系ですが、もしこれをシャム系で折ると、たぶん鳳凰になります。
アトラスという名前は土星の衛星(Saturn XV)から。
どうでもいいけど、ギリシア神話に出てくる神様の名前って、「エオス」とか「テミス」とか、○○ス。っていうのが多い気がする。ローマ神話にもちょくちょく出てくる。「マルス」とか「ヤヌス」とか。
でも私が「アトラス」から連想するのは、三銃士(アレクサンドル・デュマ著/17世紀 フランスが舞台)の「アトス」。あの三銃士も「アトス」「アラミス」「ポルトス」。
ということは、なんだ? 昔のヨーロッパ人の名前は「○○ス」ってのが多い、っていうことかのぅ???
—-