くすだま組曲とは / About Kusudama Suites
The works Kusudama-suites series are my challenging works that how to connect the parts which are made of easy bases.
Works have been made since 2010 and the series continues increasing the number.



くすだま組曲シリーズは「簡単な形のパーツをいかに繋ぐか」にチャレンジした作品群。
2010年から始まって、今もまだ遊んでいる。
ベースの形 / Base shapes of origami fold
The easy bases have roughly divided into two types: one is Kannon fold and the other is Zabuton fold.

Type of Kannon
Type of Zabuton



くすだま組曲は大きく分けて、ふたつの種類がある。
ひとつは「観音折り系」。もうひとつは「座布団折り系」。

偉そうなことを言っているが、なんのこっちゃない。
どっちの折り方から始まるか。だ。
What is Kannon fold?
Kannon fold is the same as "gate fold" or "8-page gate" in English, I think.

Kannon (観音) is one of Bodhisattva in Buddhism, called Guanyin or Kwannon in English.
Guanyin statue is stored in a miniature shrine which is called "zushi" and has double-door mostly.

This double door which is opened from the center is called Kannon-door (観音扉), opening the double door is Kannon-bilaki (観音開き) in Japanese.

The name of Kannon folding comes from this double door.

Does the name of Gate fold in English come from the same??
What is Zabuton fold?
Zabuton fold is the same as Blintz-fold in English.
Zabuton (座布団) means cushion in Japanese.
But I felt the name of Bintz-fold is fitter for this folding.

Yoshizawa–Randlett system
くすだま組曲の作品の名前 / Names of works in Kusudama suites
Names of Kusudama suites works were named after dances all over the world or musical terms.
"suites" means a suite to be used in music.

Suite (music) (by wiki)

The name of this work "Furiant" comes from a Bohemian dance.




くすだま組曲の作品の名前は、ほぼ舞曲にちなんでいる。
たまに音楽用語もあったりする。
この作品の「フリアント」という名前も、チェコの民族舞踊から。
完成作品の4つのフォーム / Four completion forms
There is a possibility that one work can have four completion forms: natural-type(♮), flat-type(♭), double-flat type(♭♭) and shape-type(♯), the names come from Accidental (music).

All of these works have only a few different foldings in the last processes and assembling methods are different.
e.g.
Csárdás Natural type
Csárdás Flat type
Csárdás Double flat type joined with Triangle pins
Csárdás Sharp type

But I made only one form in a work most so far.



くすだま組曲のひとつの作品は、4つの完成形を持つことができる可能性がある。
ナチュラルタイプ(♮)、フラットタイプ(♭)、ダブルフラットタイプ(♭♭)、シャープタイプ(#)。(譜面で半音上がるとか半音下がるとかの記号。)
でも、たいていナチュラルタイプしか作らない。面倒くさいので。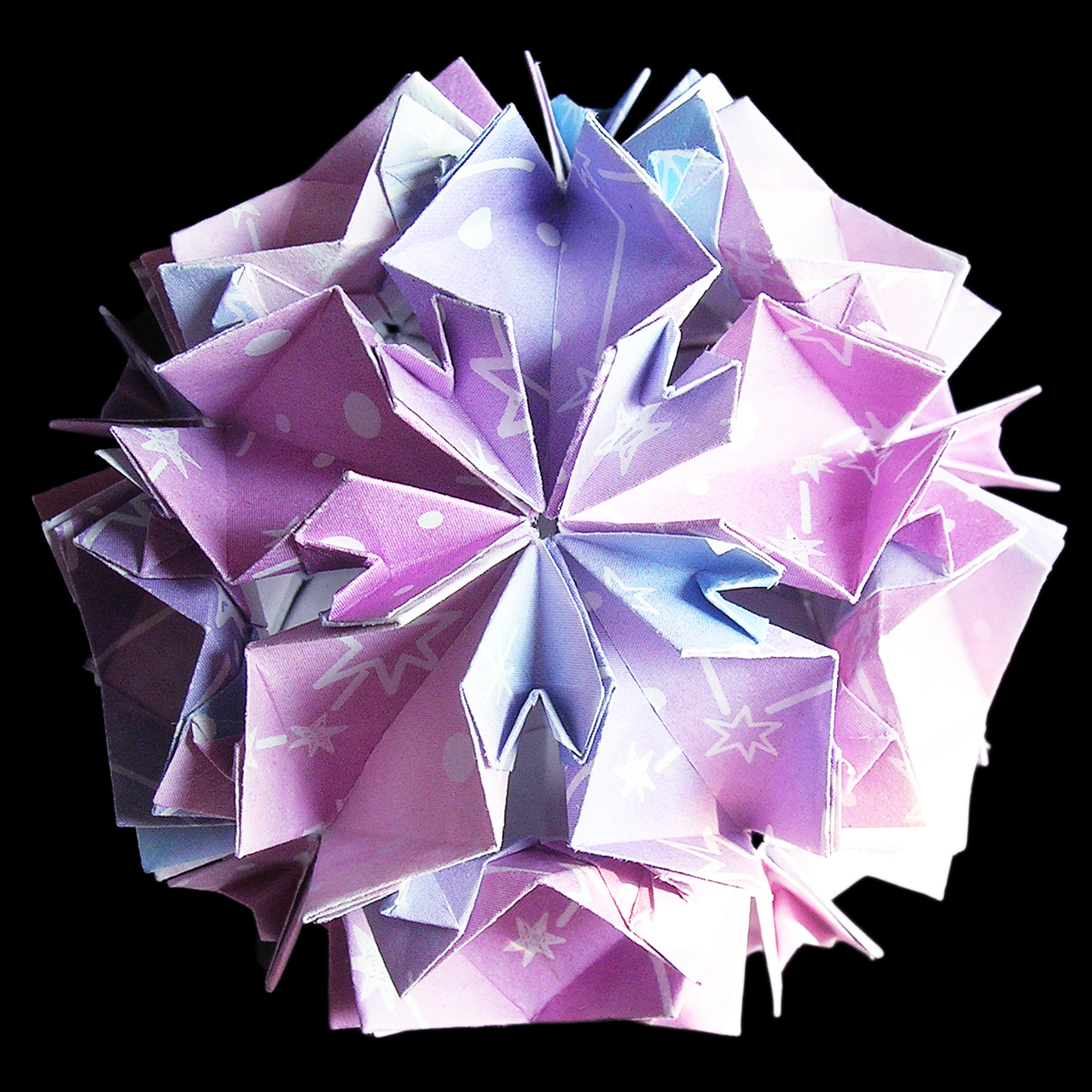 The work data of Friant
Created : Jan. 2011
Drawing : Jan. 2019

Joining method : Flap and Pocket joint (Unit origami)

Number of a part : 30
Paper size : 7.5cm
Note
Friant is one of Kusudama suites work which was created in 2011, which I made one form as usual.
But this month, I created one more shape of this work and a variation work.
Assembling method is Flat-and-Pocket joint, one part has two flaps and pockets, each part can be connected by inserting a flap into a pocket like normal unit origami works.



フリアントは2011年に作られた作品。いつものようにナチュラルタイプしか作ってない。
でも今回作ったのは、シャープタイプ。

組み立て方法は「フラップ & ポケットジョイント」。つまり、ひとつのパーツにふたつのフラップとポケットがあって、フラップをポケットに挿入して組み立てる一般的なモジュラータイプの作品。
フリアントの特徴 / Two characteristics of Friant
その1 / No.1
There are two characteristics in this work.
The work can be decorated with 1/8 rectangle decoration parts since having 1/8 rectangle standard.
I might create this one if I have time.



フリアントにはふたつの特徴がある。
ひとつは、1/8矩形規格のデコパーツで飾ることができる。 実はすべてのくすだま組曲の作品は、1/8矩形規格を持っている。でも、実際にデコパーツで飾ることができるのは一部の作品だけ。

たとえば、コティヨンとか。
ギグとか。

どちらもこの本に収録されている。
その2 / No.2
The other characteristic is about the pocket.

The pocket has a small hook to connect tightly.
If the pocket doesn't have this hook, it might happen easily that the inserted flap comes off.
But it's possible to join parts together without creating a hook in the pocket, would be easier than the way I took.

And there is another way to connect parts, which using way of Arabesque joint.
If the parts are assembled by this method, the finished form of this work becomes similar to Polka which is one of Kusudama suites work, I imagine.
Also, it can be said that parts of Polka can be assembled by Flap-and-pocket joint used to this Furiant.




もうひとつはポケット。

この作品のジョイント部分が外れにくいのは、ポケットに秘密がある。
ポケットの裏側に小さなホック(「ツメ」というか「カギ」というか…)があって、このホックがあるために、差し込んだフラップがポケットから外れにくくなっている。

なんちゅーすばらしかー。

もちろん、このホックを作らないで作品を組み立てることも可能。
まぁ、そっちの方が簡単に組み立てられるだろう。が、簡単に崩れるだろうな。

それから、アラベスクジョイントで組み立てることも可能。(アラベスクジョイントで組み立てるためにジョイント部分を加工することが必要。)
その場合は、完成形がポルカにそっくりになる。はず。
実際作ってみないとわからないけど。

ちなみにポルカのリバースタイプの「マズルカ」はこの「フリアント」に形が似ている。

ポルカはこの本に収録されている。
マズルカはどうだったかなぁ。忘れた。
フリアントの折り図 / The diagram of Furiant
The diagram of Furiant will be shown to patrons of Patreon of $3 or more as monthly diagram this month. (not include the arrangement.)





フリアントのオリジナル折り図 (アレンジは含まれず) はマンスリー折り図として、今月Patreonで配布予定。
買ってね。
ミニ情報
Patreon は Paypal(ペイパル) で支払いができる。
ペイパルは2018年 (のたぶん9月?) から、銀行口座からの引き落としが可能になった。

すばらしかー。

キャンペーンもやっているらしい。
Paypalのキャンペーン