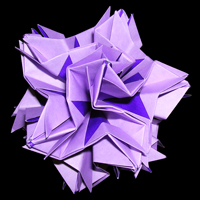 Impetus / Impetus extension
© Mio Tsugawa
created : Mar. 2015
parts : 30
paper size : 7.5 × 7.5cm
joining type : Modular type
joining method : Flap joint
Most modular type of Kusudama has flaps and pockets to connect each parts usually.
But these works doesn't have pockets, they have flaps only.
Both of them don't need to use glue to get parts together.
The structure of these works resemble work Impulse closely.
The basic polyhedron is an icosahedral skeleton.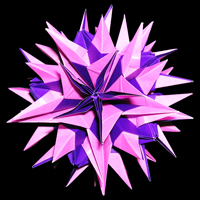 インペトゥス / インペトゥス エクステンション
フラップだけで全体をまとめる、ちょっと特徴的なモジュラータイプのくす玉です。
構造的にインパルス
ととてもよく似ています。
基本の多面体は正二十面体のスケルトンです。
—
新しいくすだまが完成すると、いつも思うことがある。
ああ、この形は初めからあったんだな、と。
私は自分で「創作」していると思っているけど、
でもほんとうは、初めからあった形を「見つけた」だけなんだ、と。
不思議だけど、ほんとうにそんな気がするんだな。
じゃぁ、その「初めからあった形」は、誰が作ったのか。というと、
そりゃぁ「神様」に決まっている。
くすだまという、神秘で美しい造形を紙に潜ませ、
折りたたむという手法で人に再現させ、たくさんの人を楽しませる。
そげなミラクルなこと「神様」以外にできまへん。
そういうわけで、私は「紙」を通じて、
いつも「神様」と遊んでもらっている。