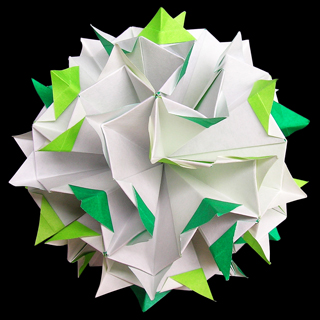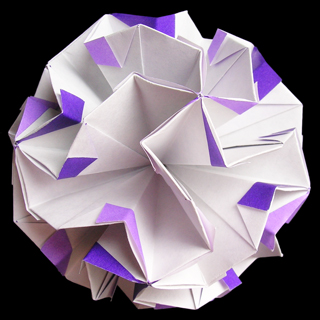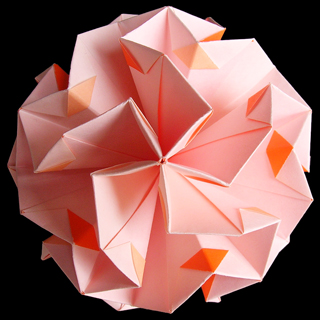 (C)Mio Tsugawa
Created : Feb. 2017
Drawing : not yet
Parts : 30
Paper size : 7.5cm
Assembling type : Modular Type
Assembling Method : Flap and Pocket joint
These are varietions of Impulsion created in 2015.
It has the same structure as Impulse.
It is a easy folding, and a easy method of assembling, but I am sure you'll get confused to assemble parts, when you make the work for the first time.
インプルション
インプルションのアレンジです。
インプルションは折り方も組み方もちょー簡単。
慣れればあっという間に完成します。
でも初めてこの作品を作る人は、組み立ての時に混乱しまくること間違いなし。だと思う。
—
さて。今日のBGMは、Kamelotを聴きながら。
アメリカのメタルバンドです。メタルのジャンルは、パワー・メタルとか、プログレッシブ・メタルとか言うそうで。(←よくわからない)
ボーカルのあまりにセクシーな歌い方に、ぅおおおおぉおおおぉぉぉぉな感じで、いつ聞いてもクギヅケ。
ボーカルは初代の Roy Khan(ロイ・カーン)と、2代目の Tommy Karevik (トミー・カレヴィック)とふたりいるけど、どちらもほんっとにセクシー。
あぁ。私にこのセクシーさのヒトカケラでもあればなぁ。
■Kamelot – Love You To Death [Official Music Video]
初代のRoy。この時代(10年前)に長髪じゃないメタルバンドマン。
すばらしかぁー。
■ Kamelot – The Human Stain [Official Music Video]
■KAMELOT – Insomnia (Official Video) | Napalm Records
二代目ヴォーカルの Tommy Karevik。
■KAMELOT – Liar Liar ft. Alissa White-Gluz (Official Video) | Napalm Records
上のビデオの続きになっている。っぽい。