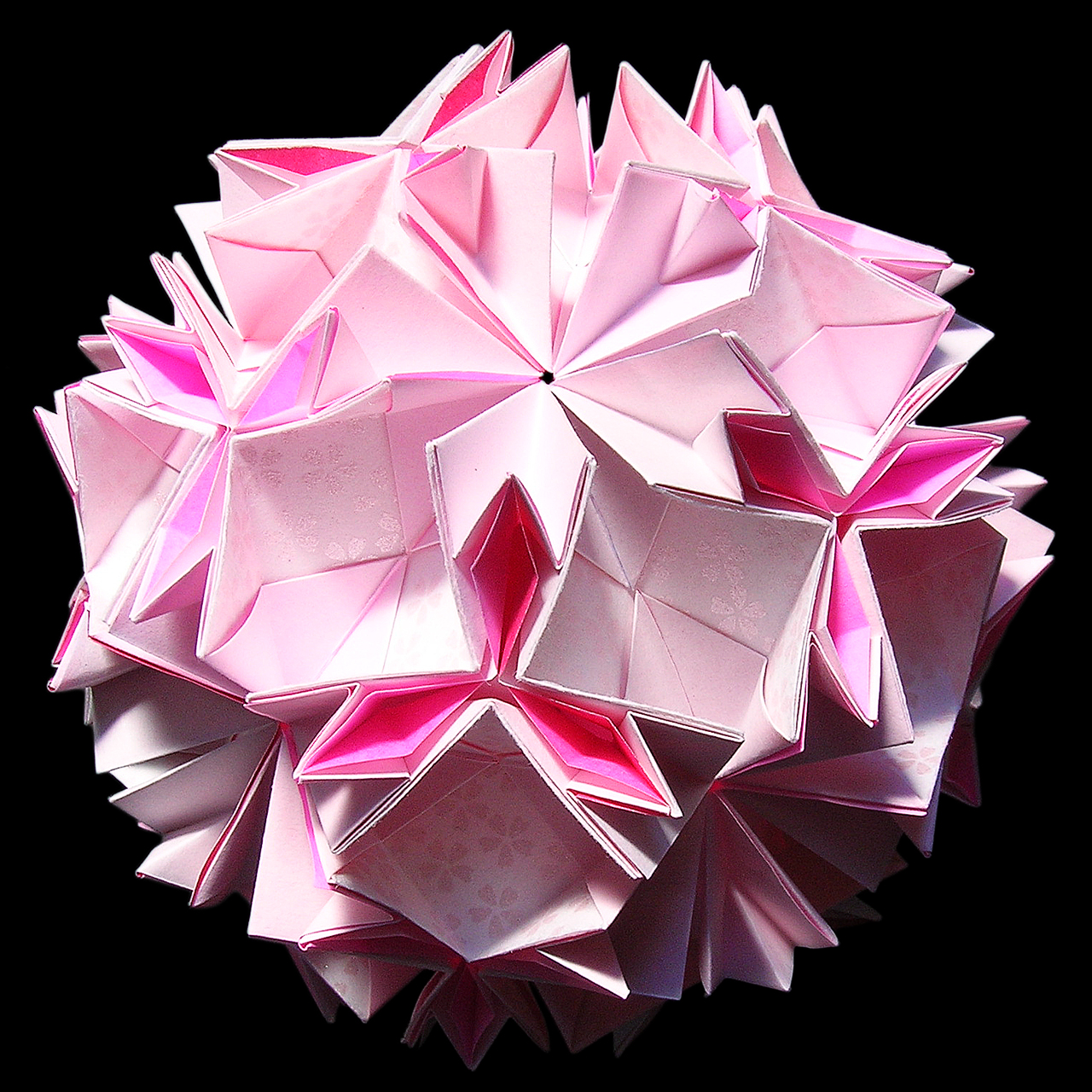 Work data
Created: Mar.2019
Drawing: Apr.2019

Type of Assembling : Modular-type
Joining method : Fold-lock-joint

Paper size: body-7.5cm, deco-part-3.75cm
Number of part: body-30 pieces, deco part-30 pieces

これはもう「モジュラー折り紙マニア向け」としかいいようが無い作品 / This work is totally for modular origami maniacs.
The monthly diagrams for patrons who are $10 or more in Patreon in this month(Apr.2014) have been distributed, it includes a new work, the name is "Edelweiss".

The work of Edelweiss can be said that it is another work of "ländler" using "fold-lock joint" as a connecting method and the appearance of completion work is not so different from "ländler".

It's just for enjoying a way the different connection to assemble, then I can say that this work is for modular origami maniac totally.





今月(4月)の折り図をキャンプファイヤーと$10のPatreonのパトロン様に配信中。
目玉は「エーデルワイス」。

この作品は実は「レントラー」をフォールド・ロックジョイントで繋いだ作品。全体の見栄えとしてはレントラーとさほど変わりなし。
そう。これは「組み方の違いを楽しむ」という、まさにモジュラーマニア向け。としか言いようの作品。
自分でも驚いた。こんな単純な折りでもつながるのか「フォールド・ロックジョイント」 / Fold-lock-joint surprise me about how it works.
The work of ländler which was created in 2010 is used a method of Arabesque-joint to connect.
The other side, the work of Edelweiss I created this time is connected by Fold-lock-joint.

Fold-lock-joint is one of a method to connect parts by folding a part the joint.
It has a few folding mostly, has complicated folding rarely.
But the method of fold lock using for this Edelweiss is not having complicated folding.
It is only like "adding a bending" at a part of a joint.

When I created this work, I was very surprised, "they can be connected by only that!?"





2010年創作の「レントラー」は、アラベスクジョイントでつなぐ。一方こちらのエーデルワイスは フォールド・ロックジョイントでつなぐ。
フォールド・ロックジョイントとは、ジョイント部分に折りを加えてパーツが外れないようにするジョイニングメソッド。
しかし、この作品に使ってある「フォールド・ロック」は、これまでのとはちょっと違って、かなり簡単な「折り」。むしろ「曲げ」と言ったほうがいいかも。というくらいシンプル。

実際この作品を創作したとき「こんな簡単な折りでも繋がるのかっ!!」と、自分でもびっくりしていた。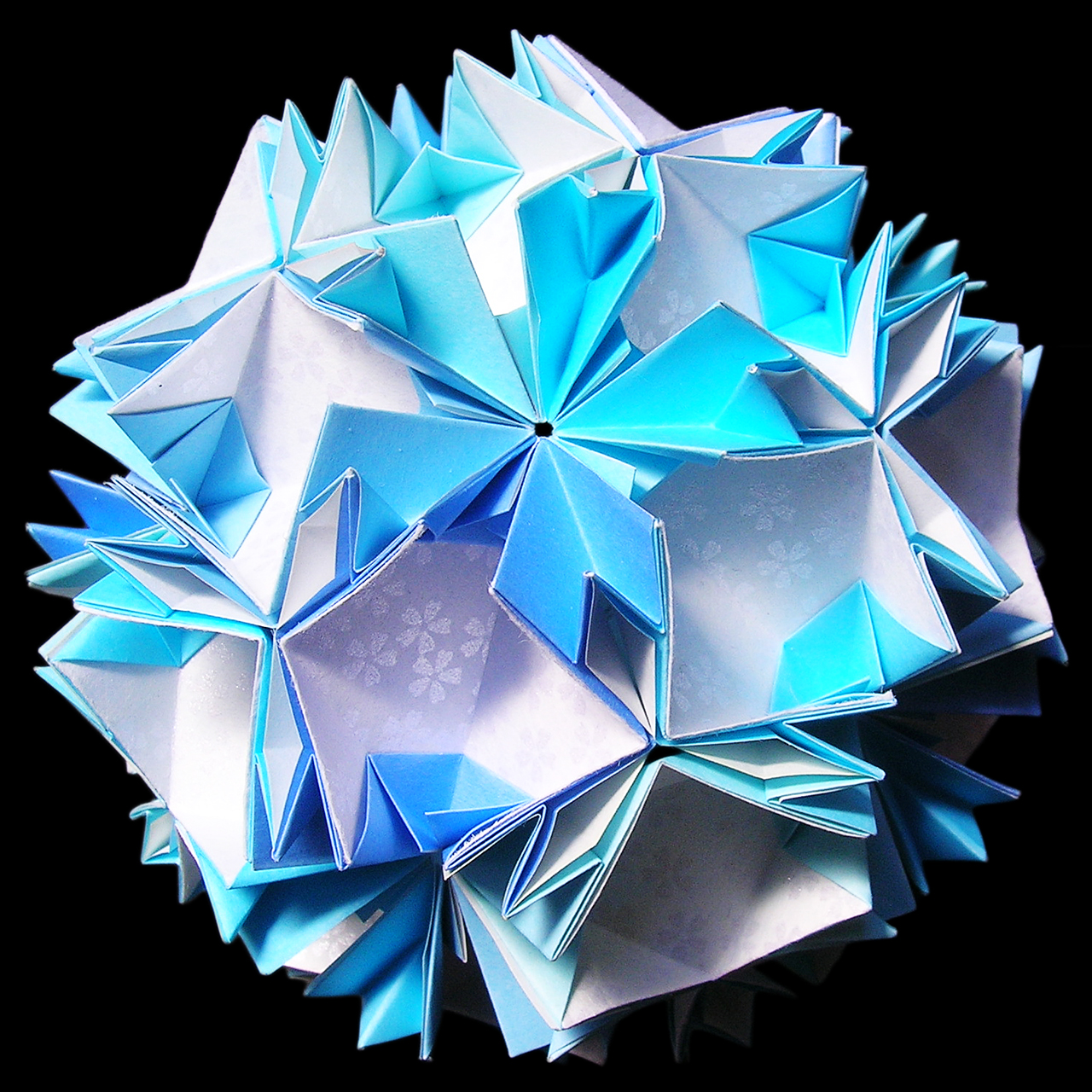 名前の由来 / The name come from
The name of "Edelweiss" is come from an old movie "The Sound of Music".
The song "Edelweiss" was sung by Captain von Trapp.
When I was a student, I learn the song at music class.

Also, a dance of "Ländler" was danced by Maria and Captain von Trapp in the movie "The Sound of Music".

So both names are connected by "The Sound of Music".





「エーデルワイス」の名前は映画「サウンド・オブ・ミュージック」の挿入歌「エーデルワイス」から。
私はこれを小学生の時に音楽の授業で習った記憶がある。
ちなみに「レントラー」はサウンド・オブ・ミュージックでマリアとトラップ男爵が踊る踊り。

「レントラー」と「エーデルワイス」は「サウンド・オブ・ミュージック」つながり。
パトロン様に配信中 / Distributing the diagram to my patrons.
This diagram of Edelweiss is distributed to my patrons who are $10 or more in this month as the monthly diagram.
It includes one arrangement.

Thank you for your support!!
Kisses!!





エーデルワイスの折り図はマンスリー折り図として、キャンプファイヤーとパトレオンのパトロン様に配布中。折り図はひとつのアレンジ付き。こちらもなかなか可愛い。(←と自分で思っている)
買ってね。