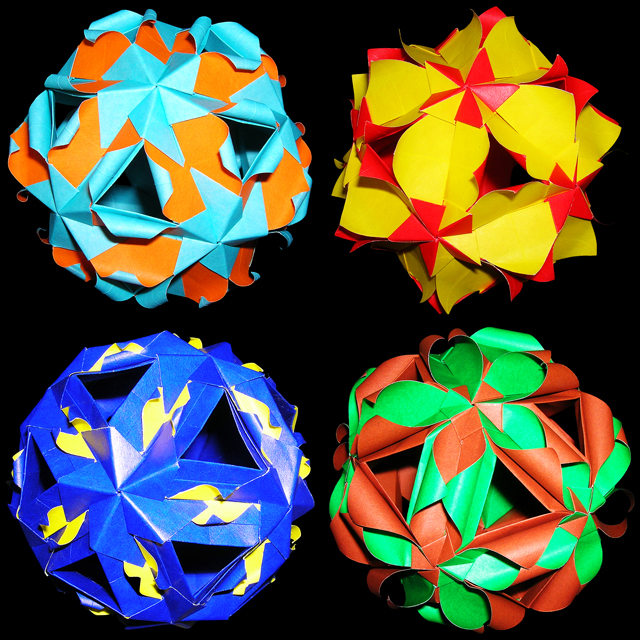 Wish your New Year is great one!
May all your dreams come true and may you have much happiness in this new year!
Some people sent me an e-greeting card of New Year.
I was so glad and thank them very much.
Around 16 hours ago, lots of fireworks filled outside, and new year began.
I was hearing that sounds while drawing a new diagram for my patrons who are 10 dollars or more per month.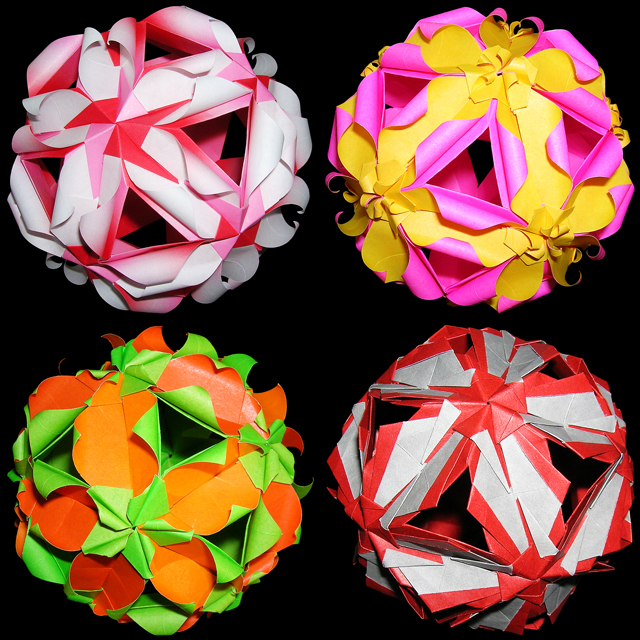 Works in a top photo are drawn in a diagram for patrons of $3 or more per month. The name is "Big-knot and Tiny-knot".
And the second one is works drawn a diagram for patrons of $10 or more. It's "Big-knot arrangements".
Diagrams are being drawn inch by inch.
It's regret that I was not able to prepare two new more diagrams for $10 patrons…
All of these works I made in Maricopa were given to my host family. If you have an opportunity that you visit this host house, you will be able to see these works with your own eyes.
By the way, I saw an interesting show in the night sky on 22th Dec. the last year.
It was very wonderful but didn't know what was that.
Have you seen that?
■Falcon 9 rocket launch provides spectacular view in Bakersfield

■Spectacular SpaceX Iridium Satellite Launch December 22, 2017

明けましておめでとうございます
今年もみなさまと一緒にくす玉づくりを楽しめたら嬉しいです。
どうぞよろしくです。
上の写真の作品たちは、ビッグノット、タイニィノットとそのアレンジ。
2018年1月の3ドルのパトロン様用マンスリー折り図に描かれています。
二番目の写真はビッグノットのアレンジ集です。
10ドルのパトロン様用です。
10ドル様用のあともう2つの折り図はまだ製作中。
今月は間に合いまへんでした…。
—
雑談。
昨年12月22日、99セントショップに行った時のこと。
お買い物を済ませてお店を出ると、たくさんの人が空を見て騒いでいた。
見上げると、どうも空の様子が変なことになっていた。
懐中電灯で照らしたような明かりが、夜空を水平に移動している。
しかも、その明かりが来たらしい、遠い向こうの空には変な光の形の残像が。
流れ星にしてはスピードが遅いような気がする。
移動しつつある光全体は、飛行船のようにも見えるし、くじらのようにも見える。
その動画が上のふたつ。
あとで調べてわかったけど、どうやらそれはロケットだったのらしい。
自然現象ではないことはなんとなくわかったけど、そうか。あれは人間の科学のチカラか。とふむふむ頷いた。
空がおかしなことになっている夢というのは、ごくたまに見る。
たとえば、巨大な月と巨大な太陽が一緒に空に上っているとか、大きな月が同じ空にふたつあるとか、空の一部が破れていて手が届くところまで宇宙が流れてきているとか。
ただ実際に空がおかしなことになっているのは、初めてみた。
(そう言えば昔、水平の虹を見たことがあるな。)
まぁ、なんであれ、ものすごいタイミングで面白いもんが見れたな。と思った。