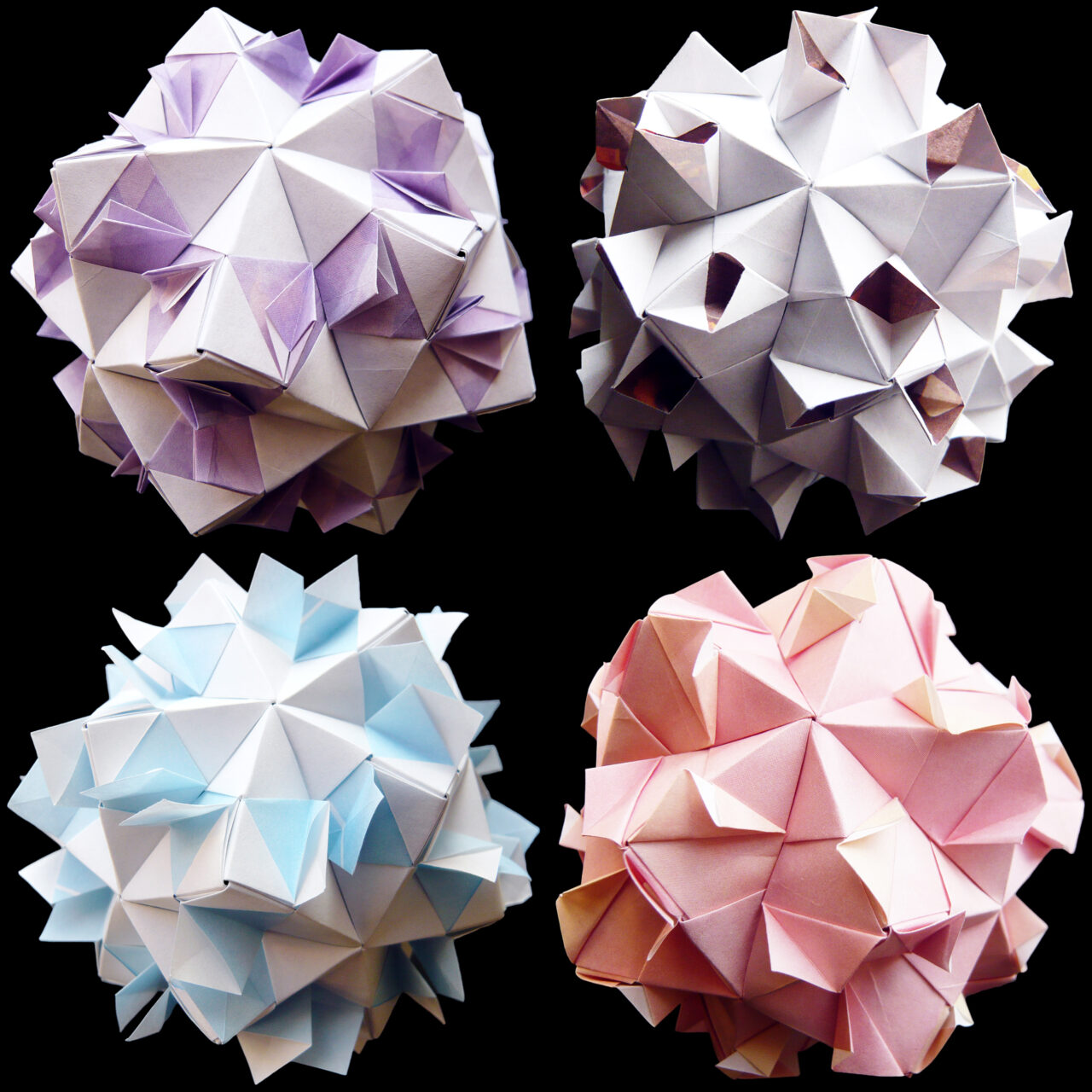 Trisection unit variations Vol.1 / 三等分ユニットバリエーション Vol.1
The monthly diagram for November.2022 for patrons who are $3 on Patreon
The monthly diagram for November 2022 for $3 patrons on Patreon has been distributed. It's "Trisection unit variations Vol.1".
Works are developed from Trisection unit.

Trisection unit can be created variations like variation works in "variety unit" I created in 2007, but this time, I created new variations.
These are not included in "Variety unit" variations.
The diagram includes four variations.

Each piece was named by the winner of the game.
Thank you for nice names!!

Patreon で$3のパトロンさまの2022年11月の折り図が配信されました!
Patreonで、2022年11月のマンスリー折り図が$3のパトロンさまに配信されました。

今月最初の折り図は「三等分ユニットバリエーション Vol.1」です。
三等分ユニットのバリエーション集になります。

三等分ユニットはバラエティユニットと同じようなバリエーションを作ることができますが、この折り図ではバラエティユニットには無いバリエーションを創作しました。 

各作品の名前は「くす玉に沼ろう!プロジェクト」 の入賞者の方々からいただきました!

すてきなお名前をありがとうございます!!
作品名、命名者、命名者のコメントをご紹介。
Warm light / 暖かな光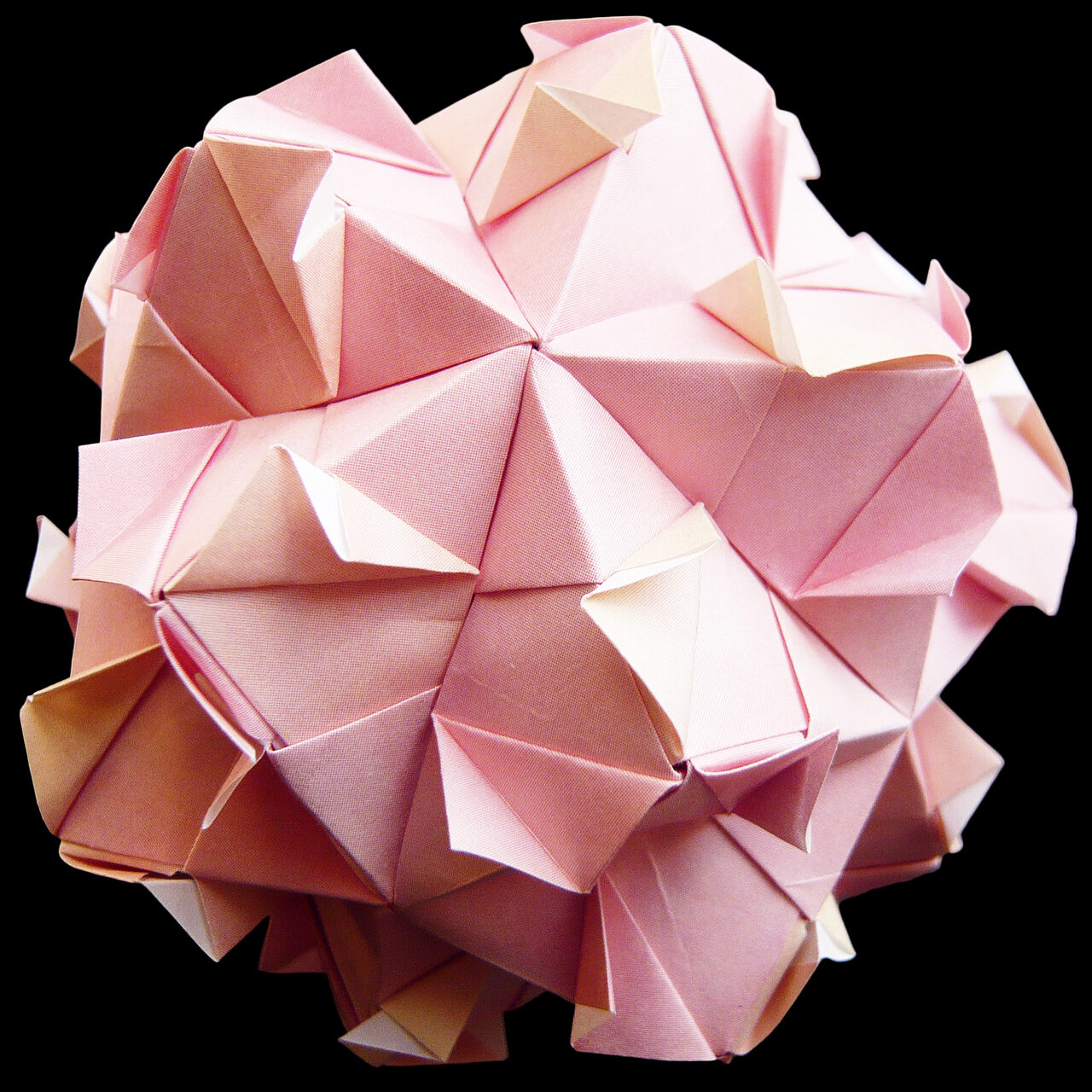 Named by みー
Comment : 星の回りに皆(ひらひらの事)が自然に集まってくるイメージ。
Light of hope / 希望の光
Named by みー
Comment : 何もないところ(隙間から見える茶色)に輝く一筋の光をイメージ。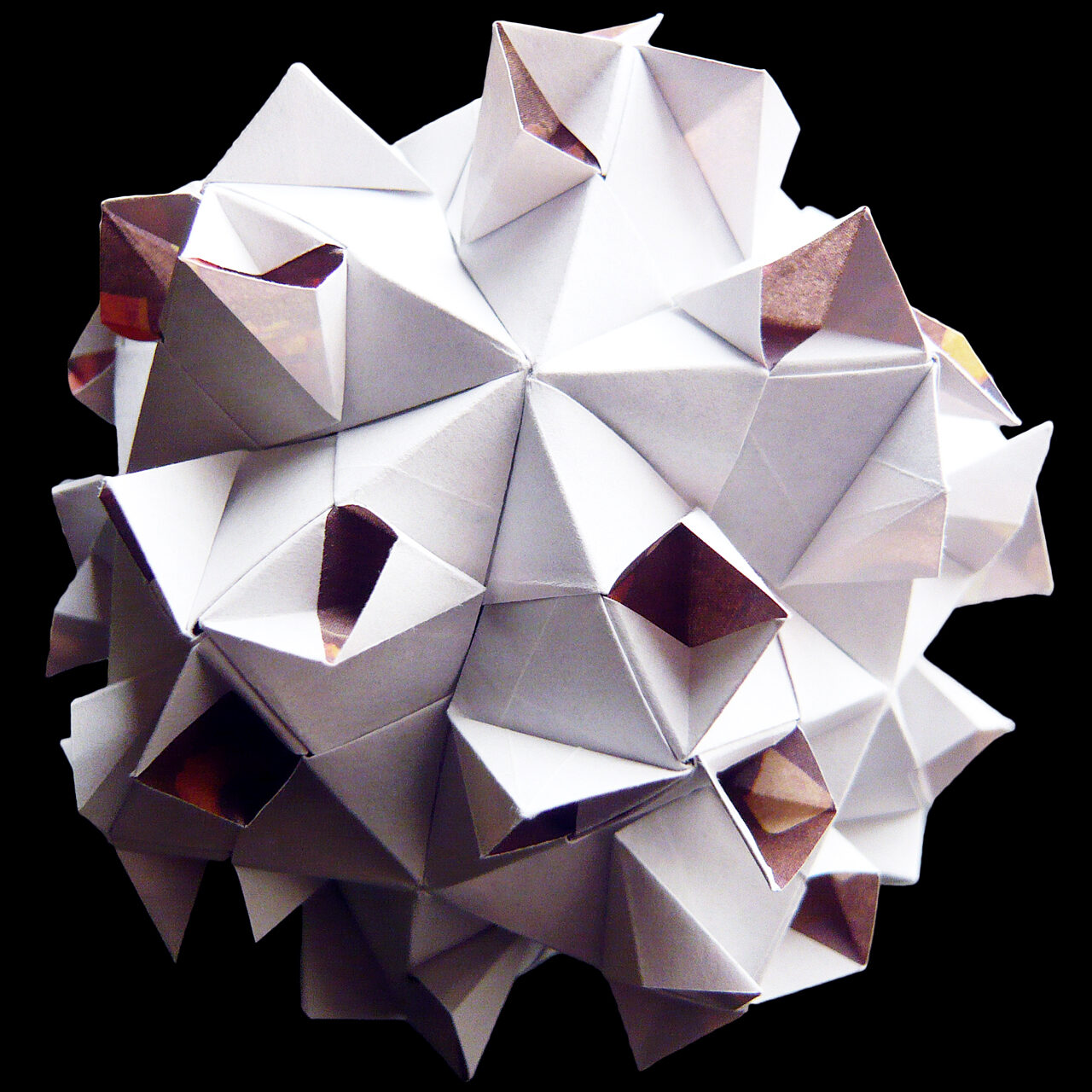 清風 / せいふう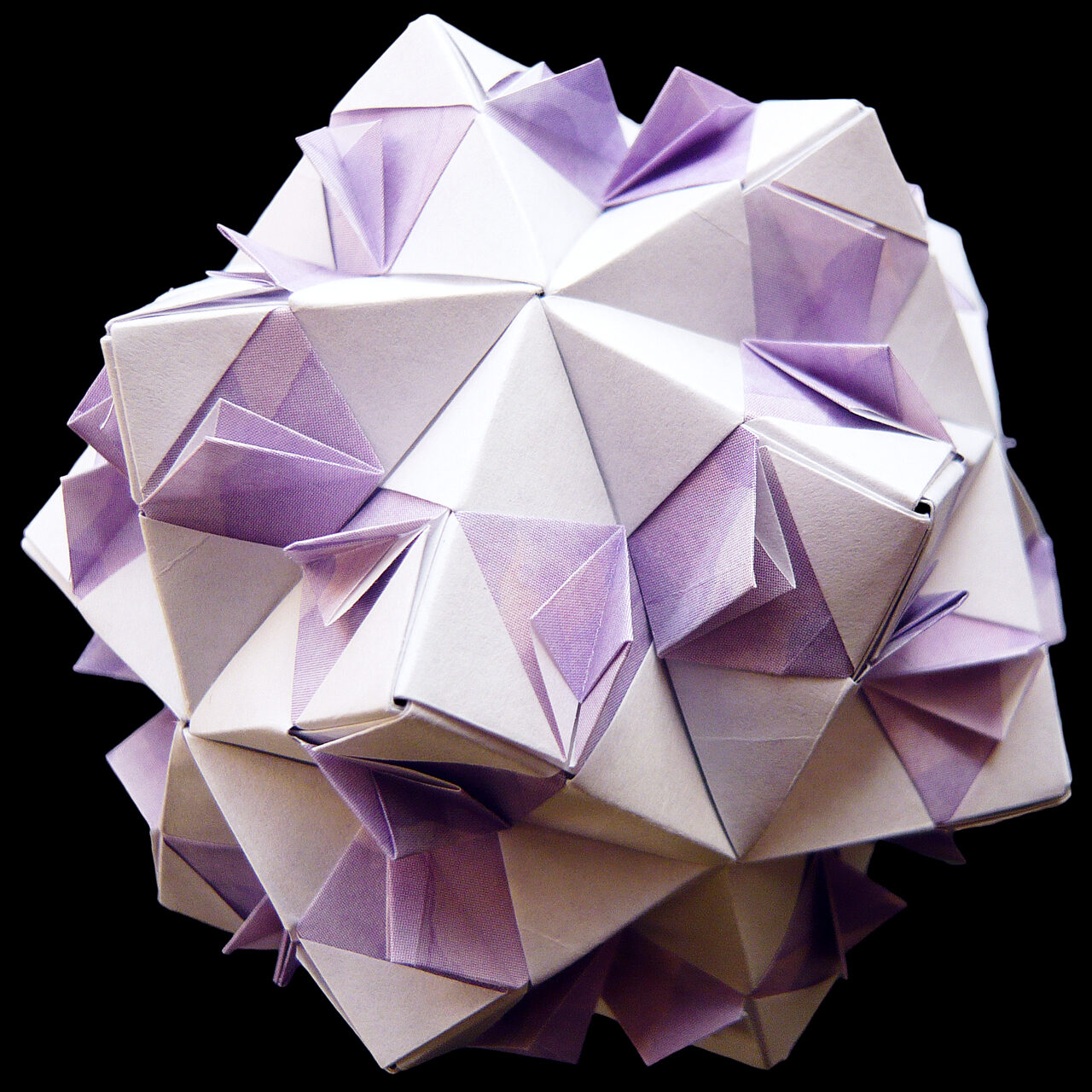 Named by あじさい丸 / Ajisaimaru

Comment :  シャープな感じと矢印のような部分が風を感じさせるので。
当初案はredと対で「太刀の刃風」としていましたが、やはり長い?物騒?と思ったので、榎本武揚が土方歳三を評して曰く「入室伹清風」(にゅうしつしょせいふう)彼が部屋に入ってくると清らかな風が吹くような爽やかな人であったと称した言葉からとっています。
Magical Moon / マジカルムーン
Named by : Kun

Comment : 魅力的な、神秘的な月との意味です。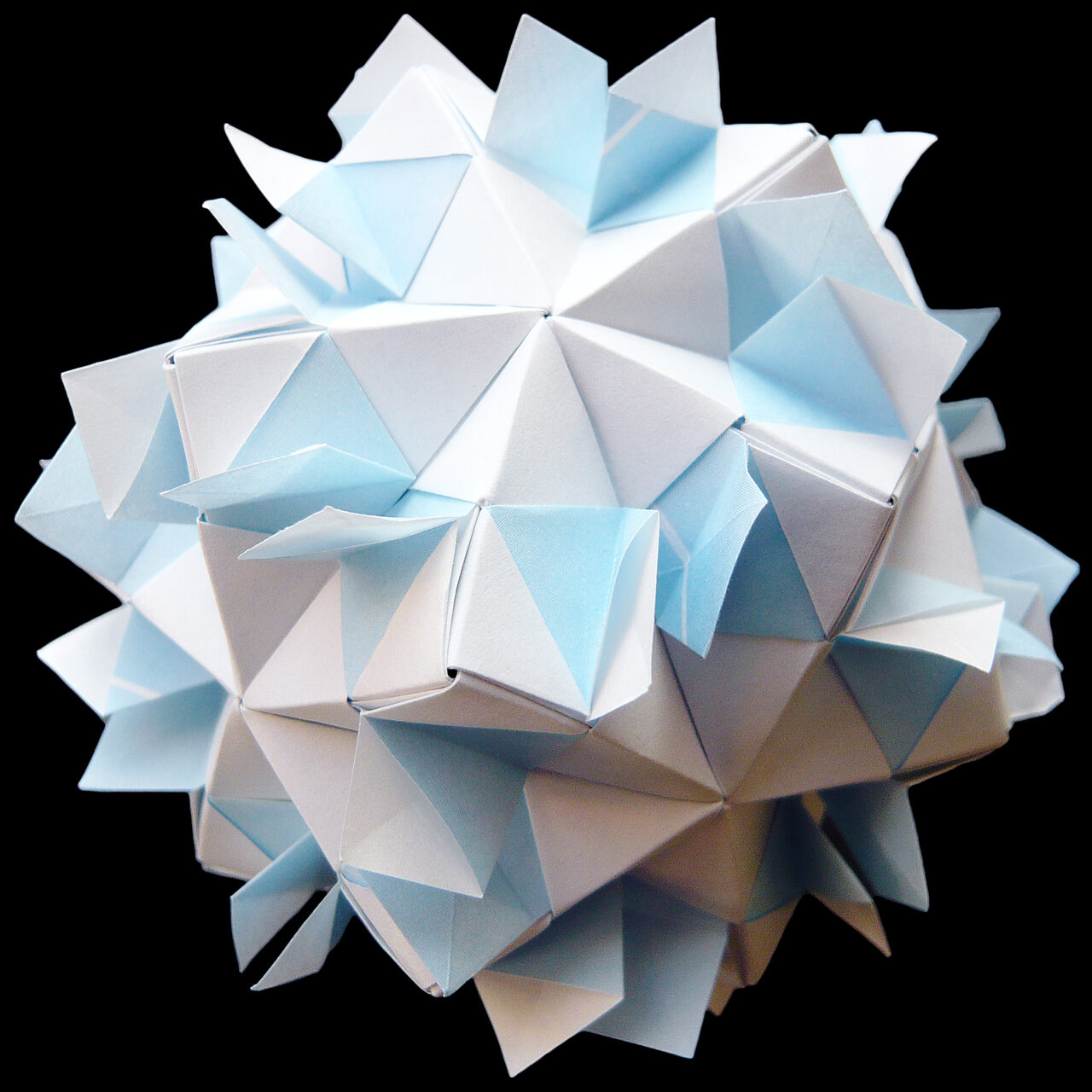 折り図の配信について
この折り図は、11月のマンスリー折り図として、キャンプファイヤーでも配信予定です。

また、しばらくしたらORIGAMIO SHOPでも、販売いたします。

お楽しみに!
雑談
作品を作るときに一番時間がかかること。
それは「紙選び」。選んでいるだけで、1日が終わっちゃうこともある。

2番目が、作品に名前をつけること。
ツボにはまると、数日間うーん、うーん、と唸っていたりする。

今回は、ゲームの勝者の方々に名前をつけていただいた。
みなさんの気持ちの込もった、すてきな名前。
私じゃぁ思いつかないような、お名前ばかりだった。うれしい。

みなさま、どうもありがとう!!

たまにはこういうのもいいな。と思った。
またいつか、ゲームとかやろう。