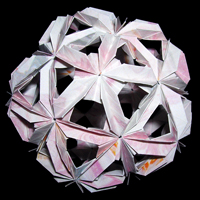 ■Wark's data■
© Mio Tsugawacreated : Mar. 2011 / Drawing : Mar. 2011Paper Size : 5 × 2.5cmNumber of part : 90 partsType of kusudama : Modular joint type (No glue)Joining Method : Twins Joint
Parts of the work in the top photo are used 90 parts, and the work in the bottom photo has 30 parts.
I updated those works as April's works of Monthly.
When I finished this work, I felt the design of this work resemble Flower Of Life,
then I named the work after it.
Have you seen the pattern of Flower Of Life?
Google Image of Flower Of Life
Part of this work is exactly the same as the form that is half the triangular portion of the Arabesque's part.
But the folding processes are different completely.
Because the work's shape is well-balanced in the entire, I have not get tired of watching all the time.
You can see these photos in my gallery.
フラワー・オブ・ライフ (FOL)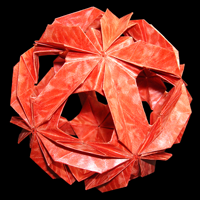 上の写真が90枚組みで、下の写真が30枚組みです。
作品が仕上がった時、予想と違ってとても美しい形をしていたので、すごく感動しました。
パーツのジョイント部分とボディのバランスがとてもよく、ずっと見ていても飽きません。
どっかで見たことのあるデザインだなぁ。と思っていたのですが、
フラワー・オブ・ライフの本を見たとき、あぁ、これだぁ。と納得しました。
実を言うと、この作品のパーツの形は、アラベスクの三角の部分を半分にした形と全く同じです。
折りたたみの工程はじぇんじぇん違いますけど。
2016年4月のくすだまとして、英語のページのギャラリーにアップしています。
日本語でも見れます。