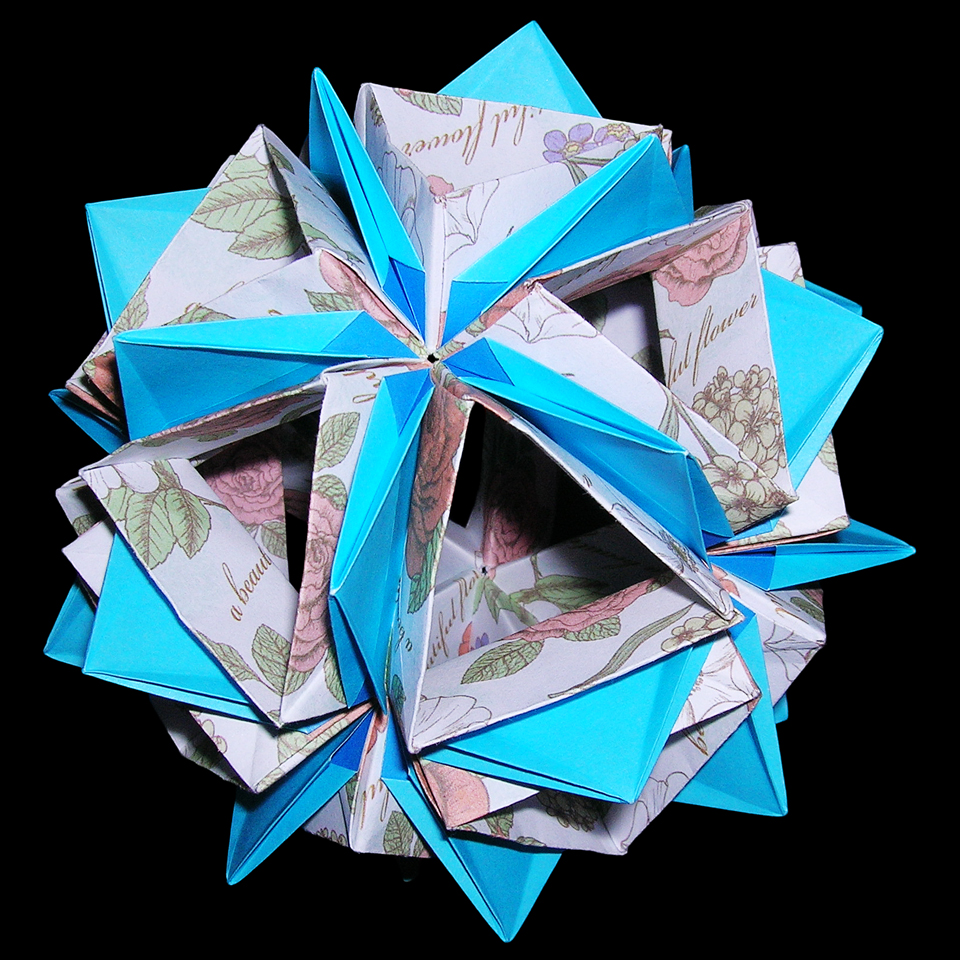 (C)Mio Tsugawa
Created : Dec. 2010
Diagram : Not yet
Type of assembling : Modular type
Joining method : Flap-and-Pocket joint
Number of part
–Main part : 30 parts
–Decoration-part : 30 parts
Size of paper
–Main part : 7.5cm
–Decoration-part : 3.75 × 7.5cm
This is a kind of work in the series of "Kusudama suites", the name is "Folia".
I tried to decorate it with decoration-parts "Pointed-hat" which are the blue color.
Glue doesn't need in all process.
The modular-origami makes me have fun always by a possibility to be able to decorate with other parts of decorations.
I love this work about as much as "Passacaglia", the joining method and the modular-ratio are created as better, for me.
Also, a work of "Sarabanda" would be able to assemble by this method.
A long time ago, I've assembled parts of Mitra which would be assembled by a method of Arabesque-joint by this Folia's method.
フォリア ver.とんがり帽子
「フォリア」を「とんがり帽子」というデコパーツで飾ってみました。
「フォリア」は「パッサカリア」とおなじくらい、好きな作品。
きっちりとつながって、モジュラー率もなかなか高い(と勝手に思っている)。
サラバンダはボディの形がフォリアとほんのちょっと違うだけで、同じつなぎ方をします。
むかし、アラベスクジョイントでつなぐ「ミスラ」をこの「フォリア」のつなぎ方で組み立てたことがあります。
ミスラス フォリア
サラバンダも同じつなぎ方なので、作品名は「ミスラズ サラバンダ」でも良かったかも。と思ったり。