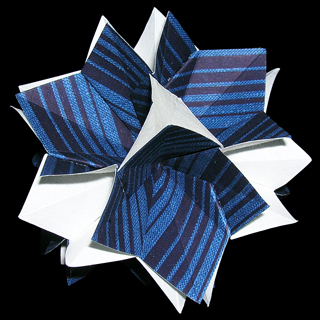 (C) Mio Tsugawa
■Works-Data
Created : May. 2010
Remodeled : May. 2017
Drawing : May. 2017
Parts : 12
Assembling-type : Paste-type
Joined with Glue.
This is a work which is remodeled Fusuma to easy folding for kids. I named it Balloon flower.
There is a work having the same name in my models, Platycodon grandiflorus.
The assembling needs glue.
The diagram is coming soon.
ふすまのアレンジです。
桔梗と名付けました。
接着剤を使って仕上げるので、初心者でもちょちょいのちょい。かな。
雑談 :
このブログは WordPress(ワードプレス) を使っている。
Wordpress とは、無料のブログソフト。だったはずなのだけど、なんか最近すごい高性能になってきている。
何がすごいって、ブログだけじゃない。初心者でも簡単にプロみたいなスタイリッシュなサイトが作れちゃう。
いつの間にこんなことになってたのか、さっぱりわからないけど、雛形(テーマ)を見ているだけでも飽きない。
テーマを決めても、プラグインとか、ウィジットとか、付属のアプリでさらに飾り立てることもできる。
無料でも素晴らしい機能のものがウジャウジャ。
まるで、スマホのアプリみたいだ。いや、私はスマホは持ってないけど(いまだにガラケー)。
で、私も最近 wordpress にどっぷり。
無料だし。高機能だし。いやぁ。すごい。おもしろい。飽きない。
って、調子こいてプラグインをガンガン ダウンロードしてたら、なんちゅーこっちゃい。
あちこちダブってしまってるじゃぁないか。
Googleのマップが2種類。ギャラリーが3種類。スライドショーなんて、4種類くらいある。
プラグインのセットを何種類もインストールしたおかげ(?)だな。
ま、せっかくだから、スライドショーのプラグイン(ウィジット)をここで使ってみようかのぅ。