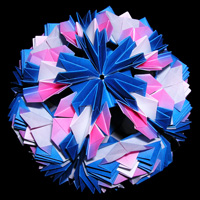 Attar
(C) Mio Tsugawa
created : Apr. 2013
parts : 30
paper size : 7.5 × 15cm
Joint type : Modular
Joint method : Arabesque joint
Joining materials : no used.
This is one of derived work from the basic form same as Hesperus, too.
The form to develop from one basic form make us surprise anytime.
アッタル
パーツ : 30
紙のサイズ : 7.5 × 15cm
ジョイントタイプ : モジュラー
ジョイント方法 : アラベスクジョイント
まとめ材 : なし
ヘスペラスと同じ基本形から発展した作品のひとつです。
どんどん増殖中。