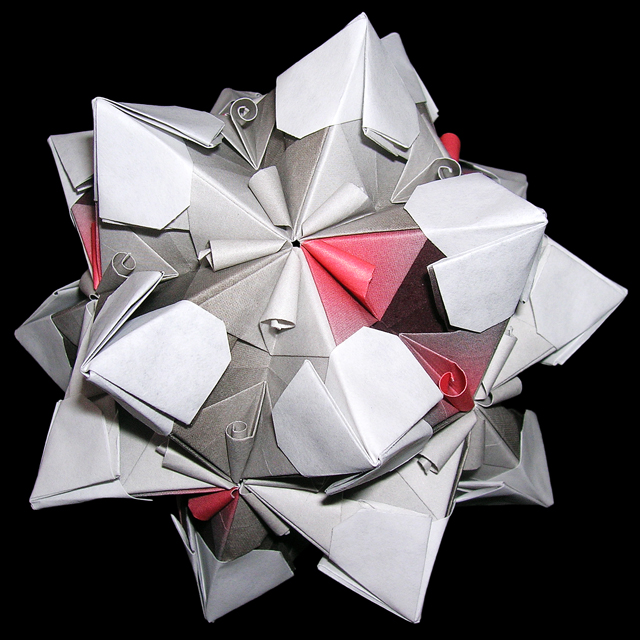 This work is a development work from
Desk Plan which I created in Dec. 1012.
The assembling is harder a bit, but the looking of completion work would be cute I think.
I created ten and more variations from this work, but I can not promise that the diagram would be drawn.
"机上の計画"脱出計画
机上の計画の発展作品。
厳密に言うなら"発展"というよりも"改良"かも。
「机上の計画」よりもずいぶん組みやすくなりましたが、それでもまだまだ難易度は高め。ボツにしようかどうか悩んでいるところ。でも、仕上がった作品を見ていると、かわいいって感情が湧いてくる。
形の魅力ってすごいなぁと実感させられる作品。癒されます。
雑談
今利用しているホストさんちには、つねに何名かのゲストが泊まっている。私のように数ヶ月利用する人もある。
その中のひとりに Goe(ジョー)という若い男の子がいた。流暢な英語を話す、背の高いマッチョなお兄さんで、仕事でメキシコシティからここに来ていると言っていた。
たまにご飯が一緒になると、
「Would you like to try this?」
とか何とか言って、必ず何かしら食べ物やら、飲み物やらをシェアをしてくれた。今日のお昼には彼の手作りのレモネードをいただいた。
そして今日の夕方、彼はこのホストのうちを離れた。
お餞別に、この作品 「机上の計画脱出計画」 を差し上げたら、喜んでくれていた。

彼との会話で、かなり印象深かったことがある。
彼はかなりのアニメ好きらしく、日本のアニメにもとても詳しかった。実際、自称アニメオタクの私よりもよく知っていた。「攻殻機動隊 / Ghost in the shell」を知ってるのには、仰天した。日本人でも知らない人が多い…はず。
その彼が、好きなアニメの中で 「デスノート / DEATH NOTE」 を挙げていた。
「デスノート」は、そのノートに誰かの名前を書くと、名前を書かれた人は必ず死ぬというノート。漫画が原作。アニメのほか、実写映画にもなった。
私が、
「If you have this note, whose name will you write? (もし、自分がそのノートを持っているとしたら、誰の名前を書く?)」
と、彼に尋ねると、彼は間髪入れずに即答した。
「Trump (トランプ)。」
すんげぇ、笑った。