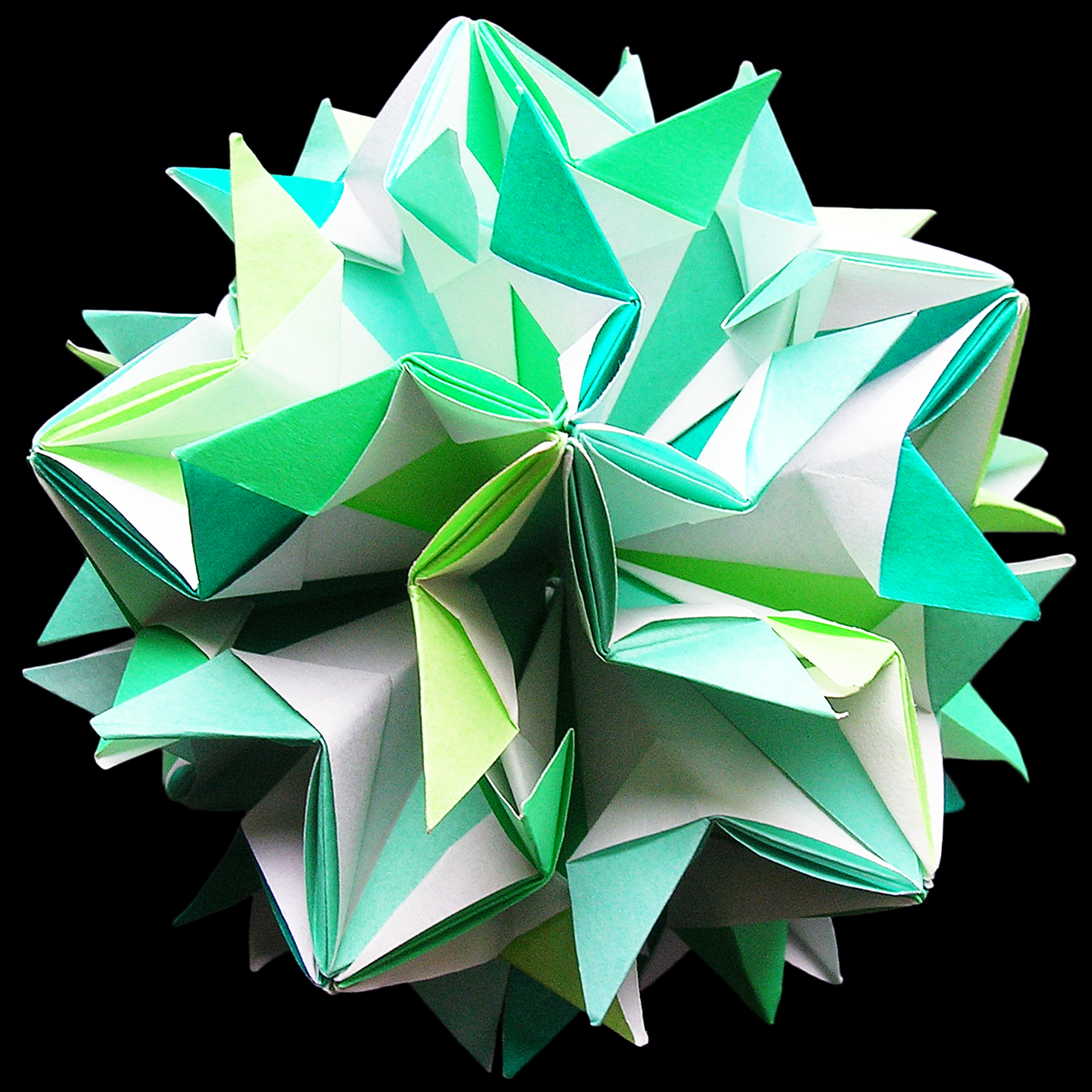 About "Impetus" / 「インペトゥス」について
"Impetus" is a work developed from "Impulse", which created in Mar.2015.
I am into making variations of it recently, and tons of variations were born, this is one of them.

「インペトゥス」は2015年3月に制作した「インパルス」からの発展作品。
最近「インペトゥス」の面白さにハマってしまい、バカほどバリエーションが生まれた。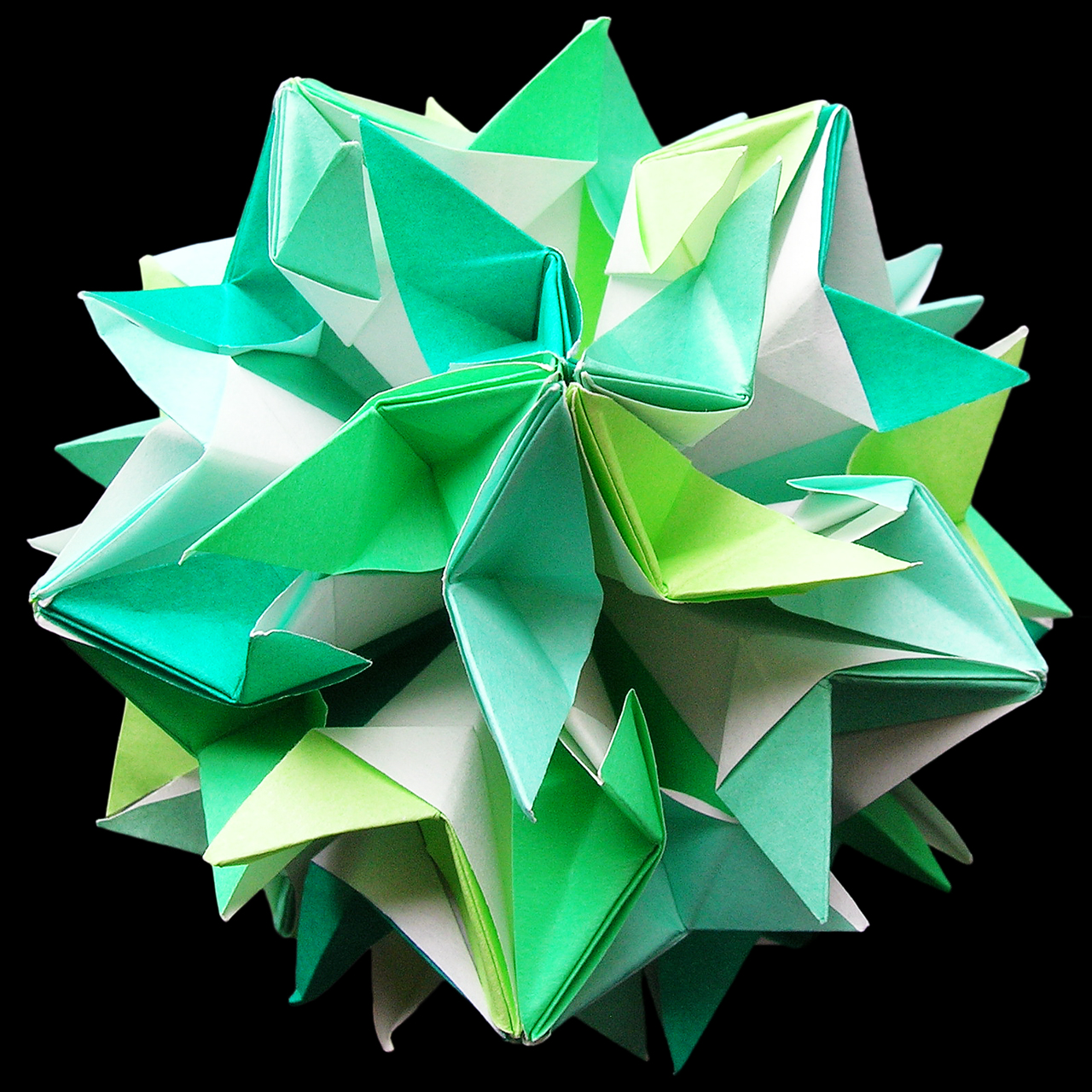 Work data
Author

Mio Tsugawa

Creation date

Jul.2020

Drawing

Not yet

Parts

30 parts

Paper size

7.5 cm (Square paper)

Joining materials

No use (No glued)

Joining method

Tomoe joint
A reason that I'm into works of "Impetus". / 「インペトゥス」にハマった理由
When I published a work of "Impetus" on my webpage, I explained that a part of this work doesn't have any pockets.
If regarding it as a part of "Impulse" or "Impish" like, it's true.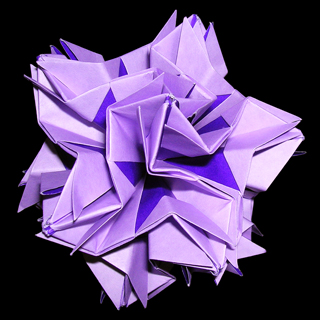 But properly speaking, It can be regarded that a part of "Impetus" has flaps and pockets. So it means that it can be regarded as that flaps are pockets, one body part is as two flaps, and that point is very interesting.

So respect to "Impetus", the assembling is the most interesting.





「インペトゥス」を創作してホームページに掲載したとき「フラップだけで全体をまとめます。」などと説明していた。「インペトゥス」のパーツを「インパルス」や「インピッシュ」のように見なすと、それは間違いじゃないけど、見方を変えると実は「インペトゥス」もフラップやポケットがあったりする。

「インパルス」で言うフラップがポケットで、ボディが「フラップ」。

つまりフラップやポケットの位置が通常とは違うっちゅうことなんだな。
だからもちろん組み立て方も違う。そこが一番おもしろい。
What is "Tomoe-joint"? / 「巴ジョイント」とは
In modular-origami, most works are a type that flaps and pockets are used to connect each part.
But as for "Impetus", flaps and pockets don't work as to connect and to fix each part well.

So, what are the things that connect and fix parts?

It's the structure of the place of flaps and pockets in a part.

The base of the polyhedron for this work is a regular icosahedron, which has twenty triangles.
A part presses the next part to the core(center) of the work, and parts won't come off easily in the triangle places. It means that all parts will be fixed.





接着材を使わないモジュラー折り紙(ユニット折り紙)といえば、フラップをポケットに差し込んで組み立てるタイプが多いと思うけど、この「インペトゥス」のフラップとポケットは各パーツの「位置」を決めているだけ。
ではなぜ、パーツがバラバラにならないかと言えば、それはパーツのフラップとポケットの構造のおかげ。各パーツが互いを作品の中心部に押さえつけあっている。

日常でこの構造を見るのは、例えば、ダンボールの蓋(フラップ)。
ダンボールの蓋は4つの扉があるけど、あれを右回りでも左回りでも順番に閉じていき、最後の蓋を一番はじめの蓋の下にくぐらせると、蓋が互いに押さえつけあって全体の扉が開かなくなる。

この「巴ジョイント」も、似たような構造なんだな。
パーツを組んでいくと互いのパーツが押さえつけあって、パーツが外れなくなるという仕組み。

この「巴ジョイント」に似た組み立て方をするジョイント方法に「ボックスジョイント」がある。ボックスジョイントで組み立てる作品のパーツも、フラップとポケットは「パーツを接続して固定する」という働きはあんまりしないけど、作品を全体に組み立てると、互いのパーツが押さえつけあってパーツが外れないという構造になっている。
The name come from… / 「巴ジョイント」の名前の由来
The name "Tomoe" come from "Mitsu-domoe".

It means a three-cornered, three-sided or three-way battle. Also, a three-sided struggle and a triangular fight.





「巴ジョイント」の名前の由来は「三つ巴」から。
About a diagram / 折り図について
I plan to draw diagrams of "Impetus" and its variation works but with regard to this variation, which green one, I won't.
Because it's pretty complicated to fold…well sorry it's not true, it's pretty complicated to draw.

「インペトゥス」とそのバリエーションの折り図は描くつもり。
でも、このブログに掲載した写真の緑色の作品のバリエーションは描かないつもり。
ちょっと折り方が複雑だから。
…ウソ。ほんとうは→折り図に描くのが複雑で面倒だから。
---