About Innocent
Innocent is a work created in 2011, and the diagram was drawn this month as the monthly diagram of Aug.2019 for patrons.

2019年8月のマンスリー折り図は、2011年に創作した「イノセント」。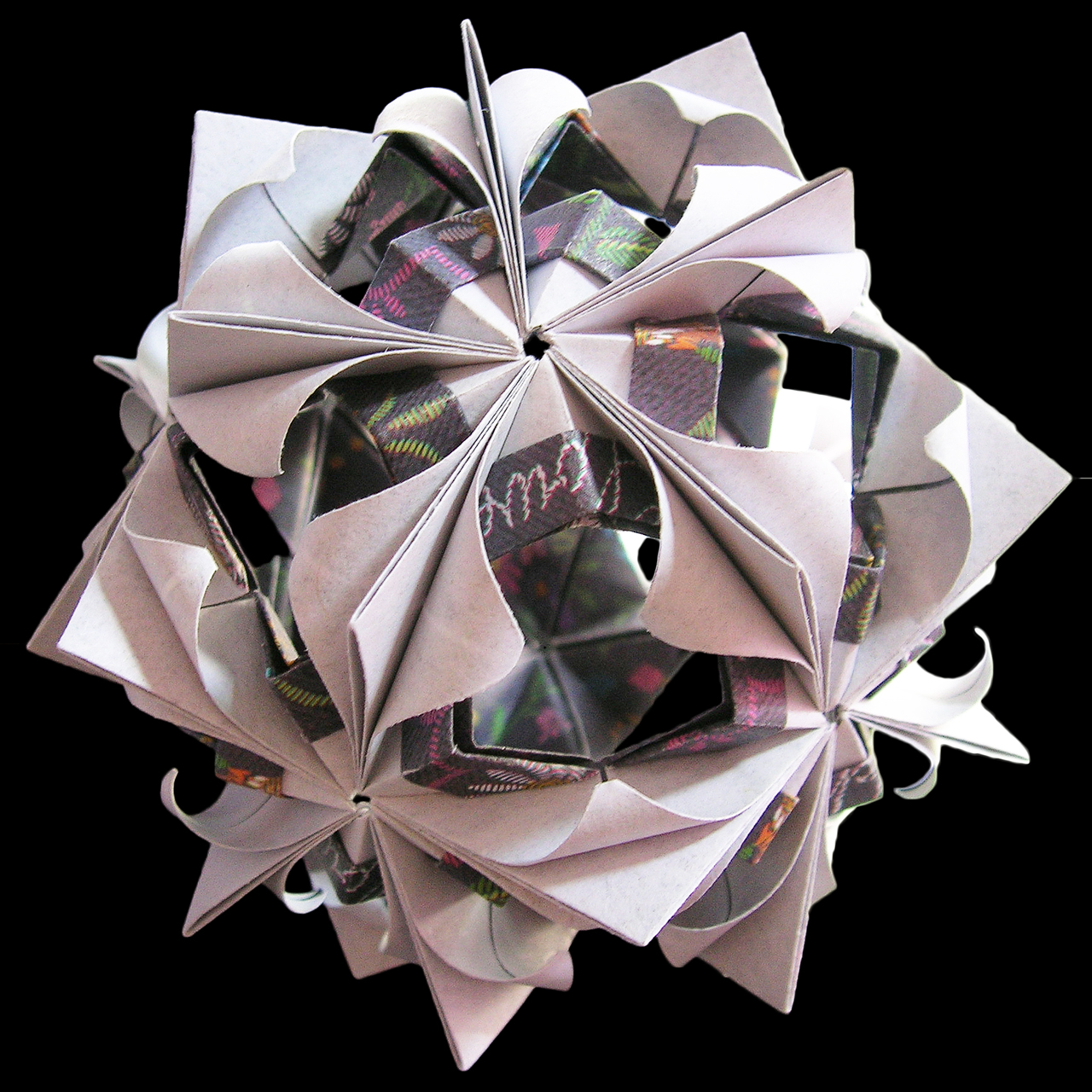 The work data of Innocent
Created : Jul.2011
Drawing : Aug.2019

Joining method : Coil-joint

Number of a part : 30
Paper size : 7.5cm
コイルジョイントとは / What is "Coil-joint"?
Though the work of Innocent having a similar looking to Arabesque, Arabesque-joint doesn't use to connect parts. The joining parts together method is "Coil-joint".

There are only three works I created so far using Coil-joint.
Innocent is one of them.

Coil-joint is a kind of "Fold-lock-joint" locking two parts strongly by adding folds at the joint part.
There's a post explained about fold-lock-joint.

Polska.

Also, I can say that Coil-joint is similar to Roll-joint curling two flaps together.

A part of Innocent work doesn't have any pockets, only has flaps. Coil-joint connects parts very strongly, not coming off easily.





イノセントは外見がアラベスクとよく似ている。



←イノセント (2011年制作)


←アラベスク

しかしながら、イノセントのジョイニングメソッドは「アラベスクジョイント」ではなく、「コイルジョイント」。

コイルジョイントはジョイントの部分に折りを加えて2つのパーツを固定する「フォールド・ロック・ジョイント」の一種。

フォールド・ロック・ジョイントについては、この記事をご参照あれ。
Polska

このコイルジョイントもジョイント部分に折りを加えて2つのパーツをロックするが、コイルジョイントの場合は、パーツにポケットが無い。
ひとつのパーツにある4つのジョイント部分は、全てフラップ。

しかしながら、このコイルジョイント、がっちり、しっかり繋がる。
簡単に外れない。
我ながら、すげーっ。と思う。

「パーツがいかに繋がるか」は、本当に不思議なことだな。と実感する。
試してみてね / Wanna try it?
How parts can be assembled without pockets?
You might be interested in it.
Enjoy finding out it by making and assembling them by yourself.
The diagram is sold on Patreon.
It's $3.


なぜ、ポケット無しでパーツが繋がるのか?
ぜひご自身で作って、確かめてくだされ。
2019年8月のマンスリー折り図として、
Patreon
で販売中。
余談
記事の上の方にアップしてある「内巻きのイノセント」と「外巻きのイノセント」。
よぉーく見ると、内巻きのイノセントはジョイント部分にちょっとしたアレンジが加えてある。

本当は、このアレンジも図面に掲載したかったのだけれど、実際に作ってみるとなぜか恐ろしく組み立てにくい。
なんとかかんとか全体に組み上げて、うーむ。と腕組み。

「私がこんなにも格闘するんだ。他の人に組み立てられるわけがない!!」(←暴言)

で、ボツにした。