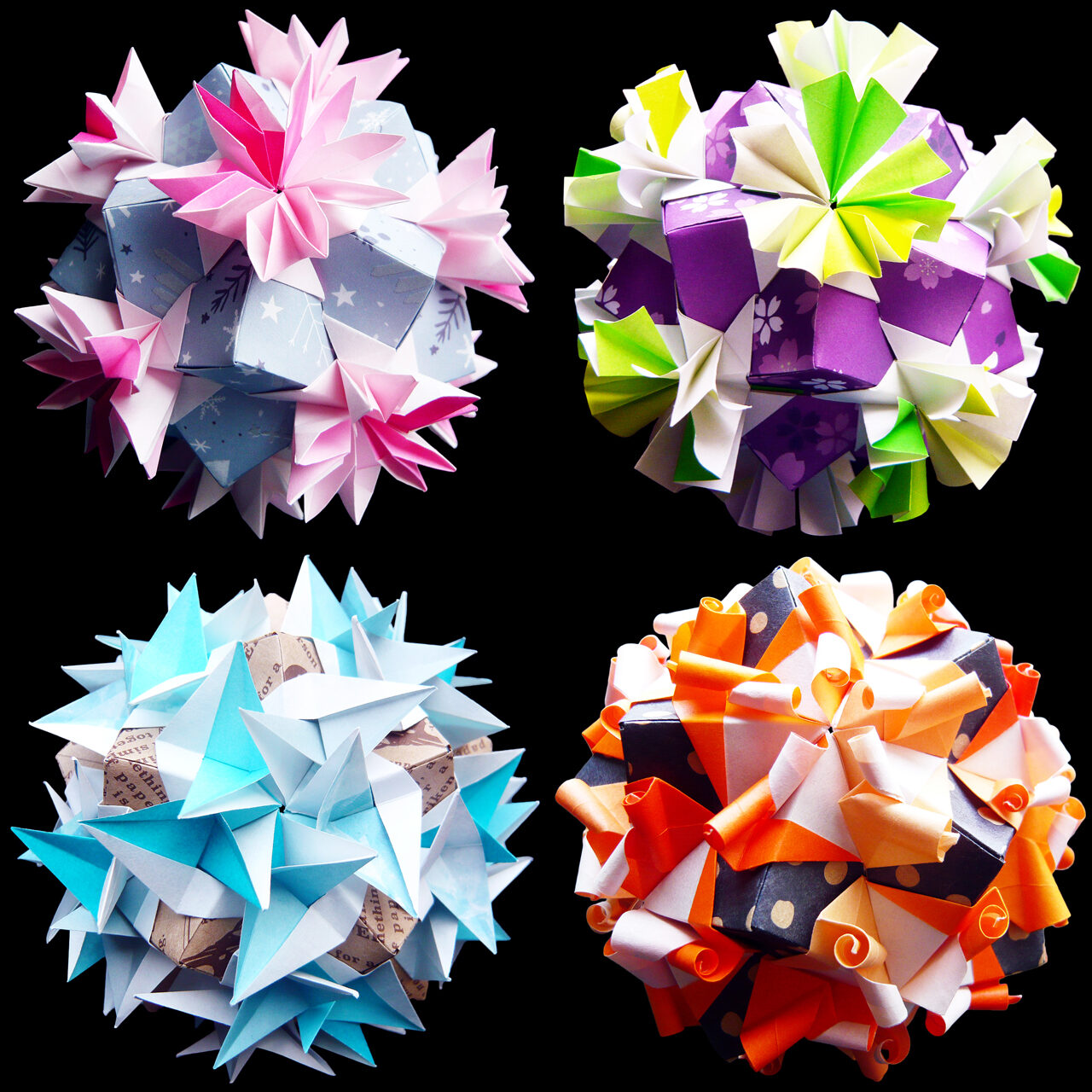 Norimaki unit variations Vol.3 / のり巻きユニットバリエーション Vol.3
September 2022, the second video
The second video of monthly kusudama tutorial video for Sep.2022 is "Norimaki unit variations Vol.3".
This video is a continuation of the previous video on "Norimaki unit", and the works are variations of it.

It includes "Coreopsis drummondii", "Gymnaster savatieri", "Samurai dwalf". I hope you enjoy it.

The video will be freely accessible for one year. You can also download it. Thank you for your support!!




2022年9月のマンスリーくす玉チュートリアルビデオ第2弾が配信されました。今回のチュートリアルビデオは「のり巻きユニットバリエーション Vol.3」です。

前回の「のり巻きユニット」の続きのビデオです。「錦鶏菊」「都忘れ」「サムライドワーフ」が収録されています。

楽しんでいただけると嬉しいです。
雑談
4日前から窓を開けると、ものすごい金木犀の匂いが香ってくる。
風向きのせいか、特に夜は強い香りがする。
たしか昨年も同じように感じた。

紙を折る手を休めて、じっと匂いを感じてみる。独特の甘いいい香り。

金木犀の咲いている期間は桜と同じように短い。ひとつひとつの花も小さい。でも、毎年いっせいに咲いて、いい香りをたくさん運んでくる。
ほら、咲いたよって言ってくる。

すごいなぁ。って思う。
見に行ってみようかな。って気になる。行かないけど。(←滅多に外出しない人)

母の情報↓ 

母「金木犀は素人が植えたらいけんだで(←鳥取弁: ダメだよ)」
私「なんで?」
母「すぐに背が高くなって、手に負えんくなる。」
私「へぇ」

いえ。特にオチはありまへん。
母がスマホで写真を撮ってきていたので見せてもらったら、ほんとうに背が高かった。