My life in Germany is coming to an end.
Most memorable things of Germany is ALDI to me.
Going ALDI and getting groceries in there were my daily routine.
I like shopping, also I like seeing the groceries and foodstuffs.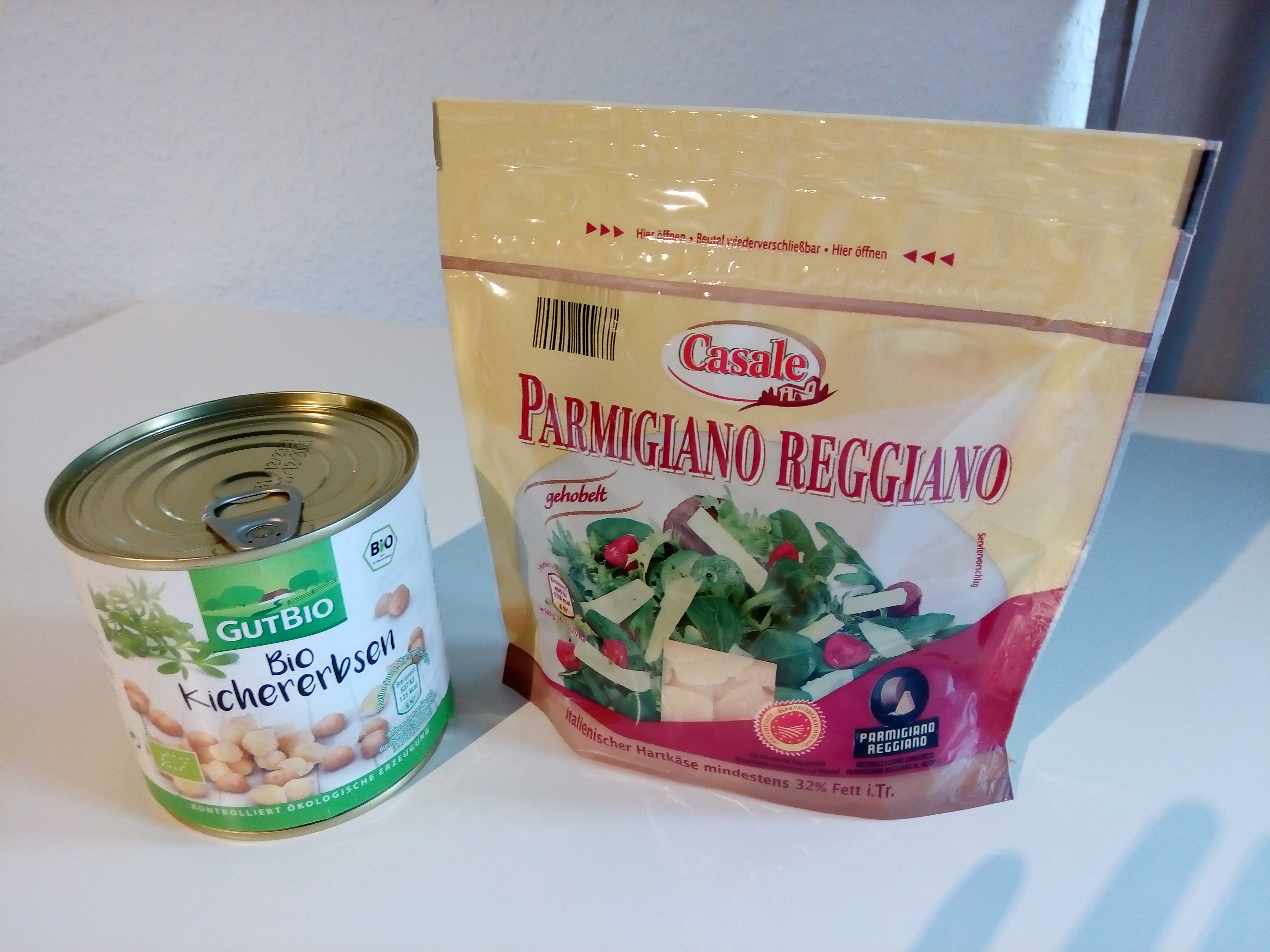 Yesterday, I got a "kichererbsen" and a "Parmigiano reggiano".
Both of them are familiar in Japan, too.
As for the Parmigiano reggiano, I've never bought like this shape.
It's very thin and small pieces.
A Parmigiano reggiano I get generally in Japan is like powder, name is Parmesan cheese.
The taste was not bad. But I think it was a little salty, so it wold be better that it is mixed with some food together.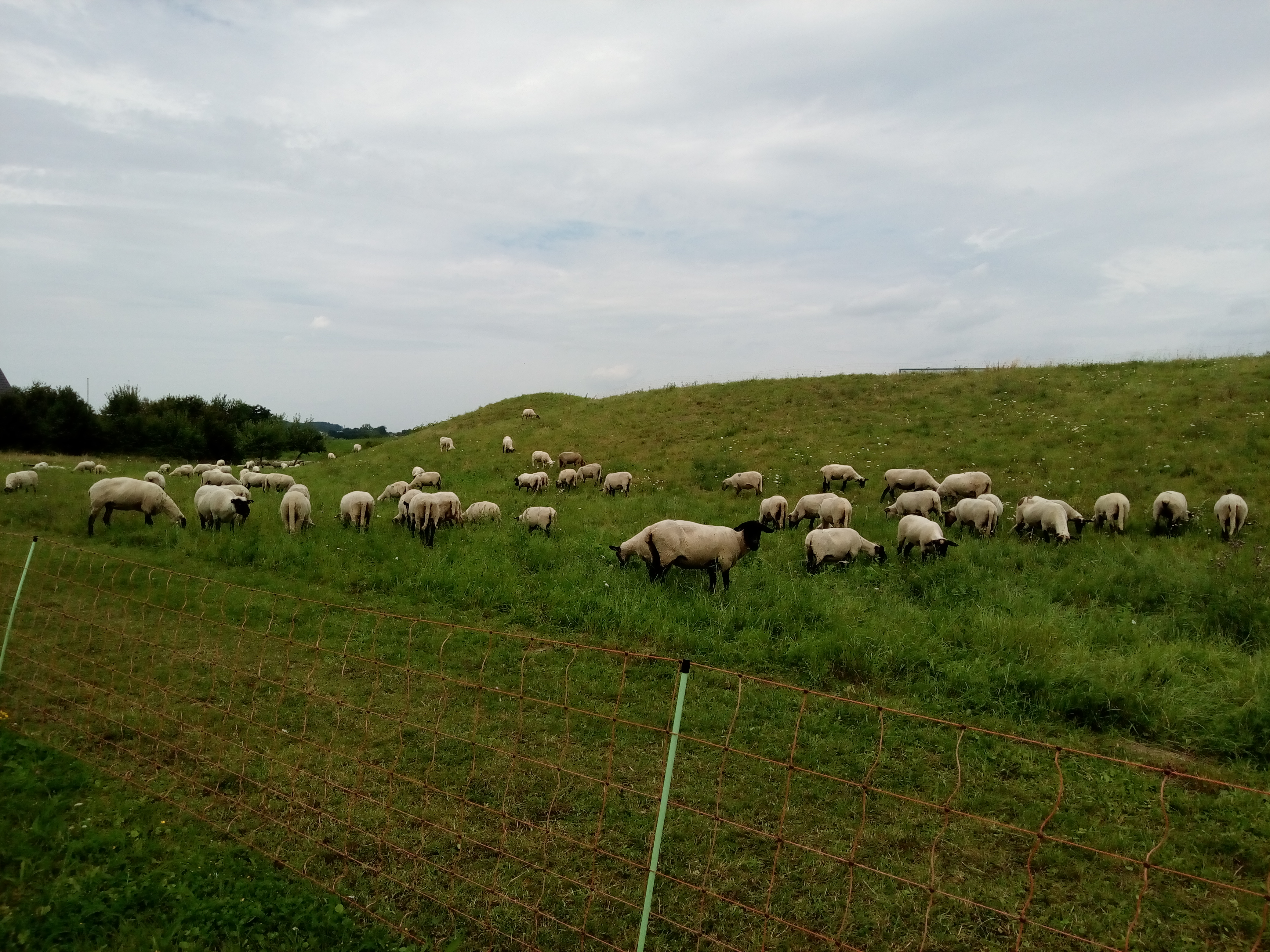 By the way, I saw many sheep on the way home from ALDI.
I just very surprised!!
ドイツ生活もそろそろ終わり。
ドイツで、何がいちばんの思い出かと言えば、スーパーの ALDI かな。
ほぼ、毎日通ったし。
昨日は "kichrerbsen" と "Parmigiano reggiano"を手に入れた。
つまり「ひよこ豆」と「パルミジャーノ・レッジャーノ」だ。
パルミジャーノ・レッジャーノは、粉チーズは買ったことがあるけど(パルメザンチーズ)この形のものを買うのは初めて。
薄くスライスしてある、小さなピース。
よくレストランとかでサラダにかかっとるやつだな。
食べてみると、うん。粉チーズの味がする。悪くないけど、そのまま食べるのはちょっとしょっぱいかも。
実は、しれっと買い物をしているように見えて、まだユーロになれていない。
日本円は「1」と「5」しかないけど、ユーロには「2」がある。
何のことかと説明すると、日本円のお金の種類は、1円玉、5円玉、10円玉、50円玉、100円玉、500円玉、1,000円札、5,000円札、10,000円札。
でも、ユーロにはこれに加えて 2セント、20セント、2ユーロ、20ユーロみたいなお金があるっちゅうことだな。
この「2」という感覚がつかめない。
お札はまだ分かる。ただ、コイン(ジャリ銭)の種類がとにかくたくさんあるように見えて、どれがどれやら混乱する。
一番ちっちゃいのが、1セント。二番目にちっちゃいのが、2セント。三番目にちっちゃいのが、5セント。かな?
この調子で、10セント、20セント、50セント。で、でっかいのんが、1ユーロ、または、2ユーロ。5ユーロから、ようやくお札になる。
で、最初の頃はお札しか使わなかったので、釣り銭でもらうジャリ銭が増え続けて、お財布がちょーヘビーに。
コインも使おうとがんばっているけど、よくわからないので、最近はレジの人に財布の中身を見せて、選んでもらってるんだな。ははは。
ところで、昨日の買い物の帰り道、大量のひつじを見た。何もない空き地に放牧されていて、ひつじさんたちはせっせと草を食べていた。
ひつじに餌を与えるために空き地に放っているのか、それとも空き地の除草をするためにひつじを放っているのか、どっちなのかはナゾ。
顔の黒いシャム猫みたいなひつじさん、初めて見た。
しぶい。