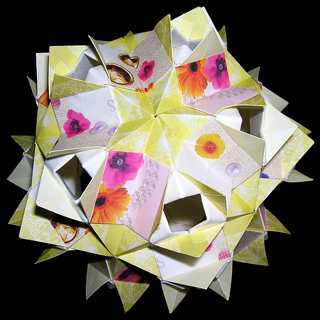 (C)Mio Tsugawa
—
Created : Mar. 2017
Drawing : not yet
Parts : 30
Paper size : 8.4 × 4.2cm
Assembling type : Modular Type
Assembling Method : Arabesque joint
—
Decoration part : Ohm
Parts : 30
Paper size : 4.2 × 2.1cm
I made this work for the first time in a while.
A different thing from it is that decorating with another part which made with paper. The name of decoration part is Ohm.
The method of putting together is Arabesque joint. Glue is not necessary. The completion work is very stable and the shape is round if it is curled parts.
One of my origami friend who is the Dutch named this work Kroon.
"Kroon" means crown in Dutch.
クルーン with オーム
オームというデコパーツで飾ったクルーンです。
アラベスクジョイントで組みます。
とてもしっかりとした仕上がりです。カールを加えると全体的にまんまるく仕上がります。
—
雑談
432hz の音楽を流していたら、母に
「何の曲を聞いているの?」
と聞かれたので、適当に
「瞑想の曲」
と答えたら、
「何を瞑想するの?」
と聞かれた。
ふっはっはっは。
おもしろいことを言うじゃぁねぇか。
■「瞑想をする」という考えを捨てる~エックハルト・トール
(おそらくオフィシャルビデオじゃぁありまへん by Mioさん)
■エックハルト・トール 『エンライトメント~人生の目的~』(DVD) PV --ニュー・アース・シリーズ#3
(ひょっとするとオフィシャルビデオ? by Mioさん)

■エックハルトに個人セッションを受けるニール・ドナルド・ウォルシュ
(おそらくオフィシャルビデオじゃぁありまへん by Mioさん)
えええっ、まじかっっっ!?!?!?
って、釘付け。いやぁ、おもしろい。
何より私は『ニール・ドナルド・ウォルシュ』という人を、150年前くらいの人だとなぜか勝手に思い込んでいた。