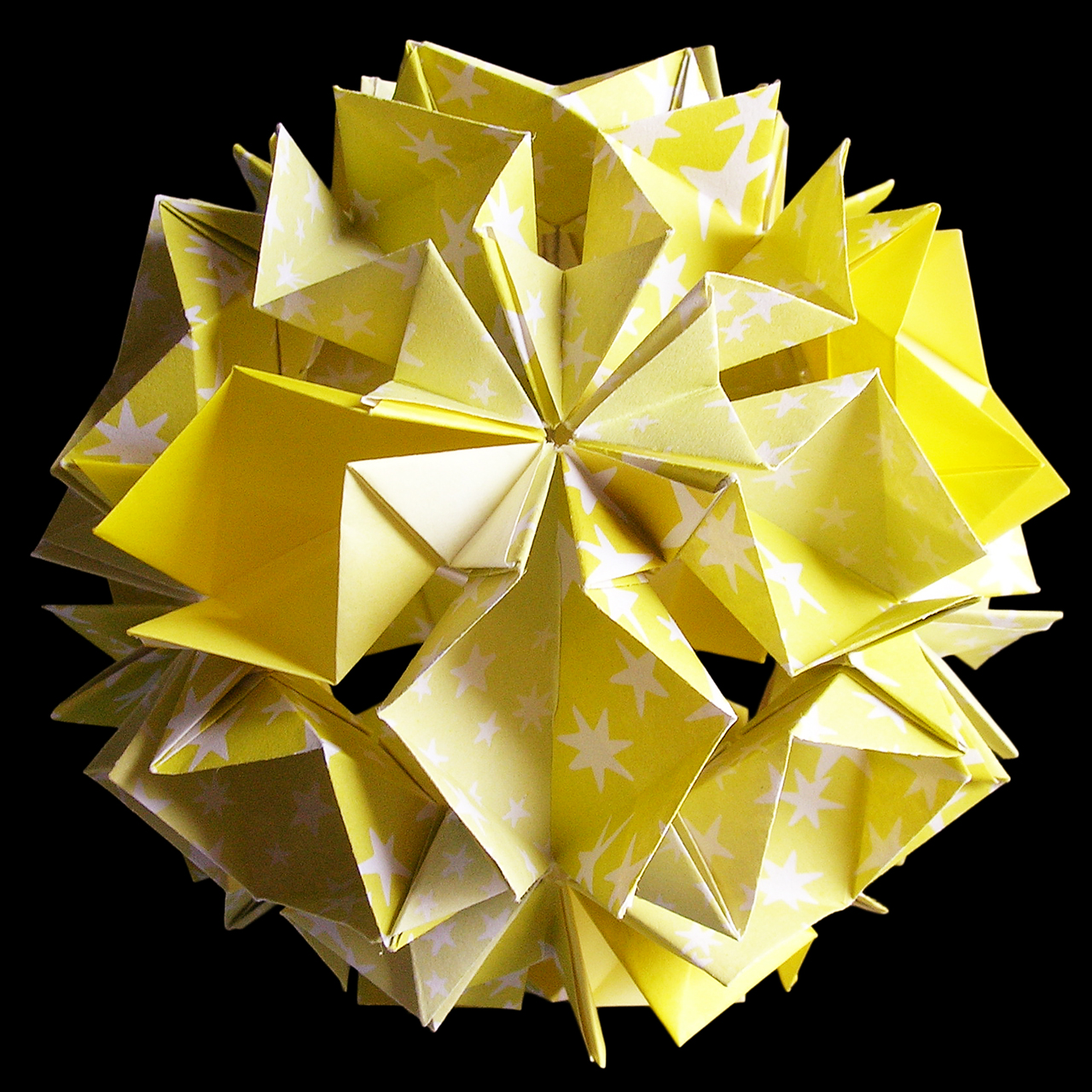 A work of Feb.2019
A new diagram "Csárdás" has begun to be distributed to patrons who are $10 or more as monthly diagram of Feb 2019.
Csárdás : Work data
Created : Aug. 2010
Drawing : Feb. 2019
Joining method : Finger-joint
Number of part : 30
Paper size : 7.5cm
Note :
An original work made in Aug. 2010 as one of Kusudama suites series, it was an earlier time that I've begun to create Kusudama suites series.

The looks of this work similar to Furiant, actually the both of folding processes are no big difference.





くすだま組曲の作品のひとつ。オリジナルの作品は 2010年の8月制作。 フリアントと見た目はさほど変わりなく、実際、折り方もさほど違いがない。
フィンガージョイントとは何か / What is "Finger-joint"
What is a great difference between the both of "Furiant" and "Csárdás" is the way to connect parts.
A used method to this work "Furiant" to connect is "Flap and Pocket joint", "Csárdás" is "Finger-joint".

The name of Finger-joint come from woodworking.

I've used it to only one work so far, the name is Refreshing star.
But it's as a test work.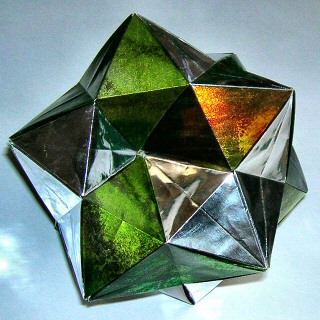 「フリアント」と「チャールダーシュ」の大きな違いは、ジョイニングメソッド(接合方法)。
フリアントは「フラップ アンド ポケットジョイント」、チャールダーシュは「フィンガージョイント」。
「フィンガージョイント」は実際の建築用語で、木を接合する方法のひとつ。
木工のこの継ぎ手を見たら、ひと目見ただけで「接着剤なしにお互いの木がどのようにして繋がれているか」を理解できるはず。

この「チャールダーシュ」に使われている「フィンガージョイント」というジョイニングメソッドは、その木工細工の継ぎ手のメカニズムをユニット折り紙で再現したもの。

今までにこのジョイニングメソッドで組み立てた作品は、私の折り紙人生でたったひとつだけ。2007年制作の 「鮮星」。

しかも、ジョイントがあまりうまく働かなくて、残念ながらテストワーク止まり。 12年経った今になって、ようやくこの方法が日の目を見たというわけだ。 いやぁ、Mioさんすごいっ。 ってな。 知らんぷりして自画自賛、らっぱをピープー鳴らしたいものだが、実のところこの作品は、フリアントのパーツで遊んでいたら偶然にできてしまった単なる「産物」だったりする。

あれ? このパーツ繋がるんじゃね?
あ、つながった。しかもこれって、フィンガージョイントじゃね???

てな、感じ。 自分が作りたくて「クリエイト」したものでは無いんだな。

まぁ、私の作品は得てして、大体そんな感じで生まれてくる。
新しい発見があるとすんげぇ嬉しい。
やほほっ、うほほっ。と思わず小躍りしてしまう。

そんなアホな自分を客観的に見て、やはり、いつも絶えず「神(紙)さま」に遊んでもらっていると思う。
百聞は一見にしかず / Seeing is believing.
The method to connect each part in this work is not the exact same as the way of Finger joint in a woodworking, but when you try it, you can feel.
If you want to know what is Finger-joint I created, It's seeing is believing. Just try it!!

This diagram is being distributed to patrons who are $10 or more in Patreon.





もちろん、この作品に使われている「フィンガージョイント」は木工のフィンガージョイントとは全く一緒ではない。でもこの作品を実際に作るなら、パーツを繋ぐ時に、ああっ!! って、思うはず。

百聞は一見にしかず。
試してみてくだされ。

パトレオンで2019年2月のマンスリー折り図で$10以上のパトロンさまに配布されています。 または、5部以上なら好きな折り図を選べます。
チャールダーシュの他の特徴 / Other characteristics of Csárdás
"Finger-joint" makes a strong connecting, once you join parts together, it might be hard to come off it.
Csárdás has a standard of 1/8 rectangle and it will be able to be decorated with 1/8 rectangle decoration parts.

「フィンガージョイント」の接合はかなりがっちり。いったん繋ぐと外すのが難しい、かも。
チャールダーシュは1/8矩形規格。1/8矩形規格のデコレーションパーツで飾ることができる。